caramelised leek and
broccoli fish pie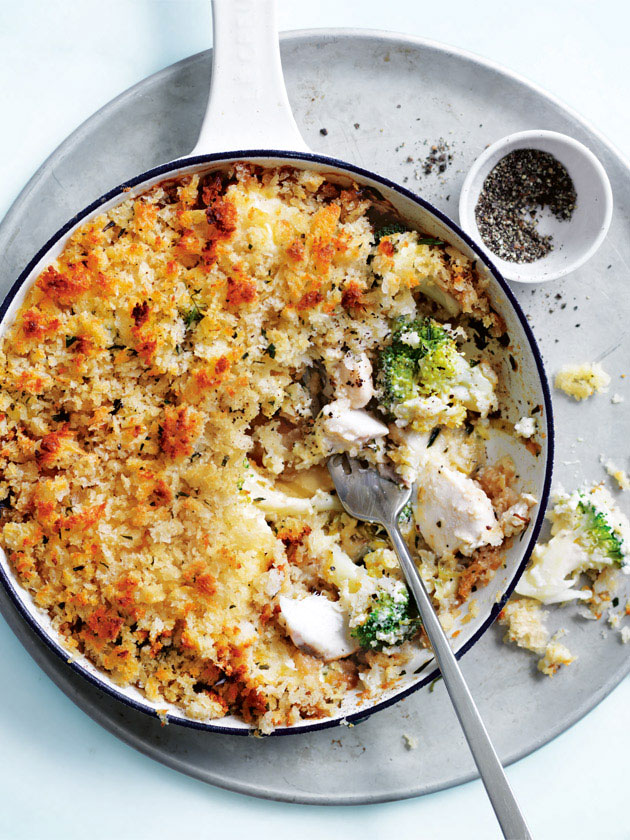 200g fresh sourdough breadcrumbs

¼ cup tarragon leaves, roughly chopped

150g unsalted butter, melted

sea salt and cracked black pepper

2 leeks, white part only, thinly sliced

2 cloves garlic, crushed

300g broccoli, cut into small florets

800g firm white fish, cut into 3cm pieces

1 tablespoon plain (all-purpose) flour

250g tub sour cream

2 tablespoons Dijon mustard

½ cup (125ml) water

Preheat oven to 200°C (400°F).

Place the breadcrumbs, half the tarragon, half the butter, salt and pepper in a large bowl and mix to combine.

Place on a large oven tray and cook for 10 minutes or until golden.

While the breadcrumbs are cooking, heat the remaining butter in a large ovenproof pan over high heat. Add the leek, garlic and broccoli and cook, covered, for 5 minutes or until softened.

Place the fish, flour, salt and pepper in a large bowl and gently toss to coat.

Add the fish mixture, remaining tarragon, sour cream, mustard and water to the pan and stir to combine. Top with the breadcrumbs and cook in the oven for a further 10 minutes or until golden brown and cooked through.
Sprinkle with pepper to serve. Serves 4.

Maureen Keegan
Super simple and so tasty, the children devoured it.
Melanie Colvin
Stunning…easy and quick to prepare, and full of flavours. What could you ask for!
Marianne Caddy
An easy and tasty recipe for weekend cooking. Also encourages healthy eating with a good dose of veges and fish!