banana cake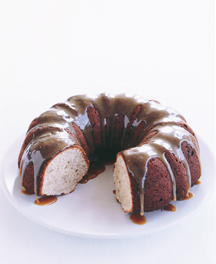 125g butter, softened

1 cup (220g) caster (superfine) sugar

¼ cup (45g) brown sugar

3 eggs

2 cups (300g) plain (all-purpose) flour

2 teaspoons baking powder

1 teaspoon ground cinnamon

¾ cup (180g) sour cream

1 cup roughly mashed banana

caramel sauce
¾ cup (135g) brown sugar

cup (250ml) single (pouring) cream

Preheat the oven to 180°C (350°F). Place the butter, caster sugar and brown sugar in the bowl of an electric mixer and beat until light and creamy. Gradually add the eggs and beat well. Sift the flour and baking powder over the mixture. Add the cinnamon, sour cream and banana and stir to combine.

Spoon the mixture into a greased 26cm fluted ring tin. Bake for 40 minutes or until cooked when tested with a skewer. Cool on a wire rack.

While the cake is cooling, make the caramel sauce, place the sugar and cream in a saucepan over medium heat and stir until the sugar is dissolved. Increase the heatand simmer rapidly for 8 minutes or until the sauce thickens. Allow to cool and spread over the cake. Serves 8–10.

Merilyn Arundale
The best Banana Cake recipe I have ever used. Very popular with family and friends.