chocolate caramel truffles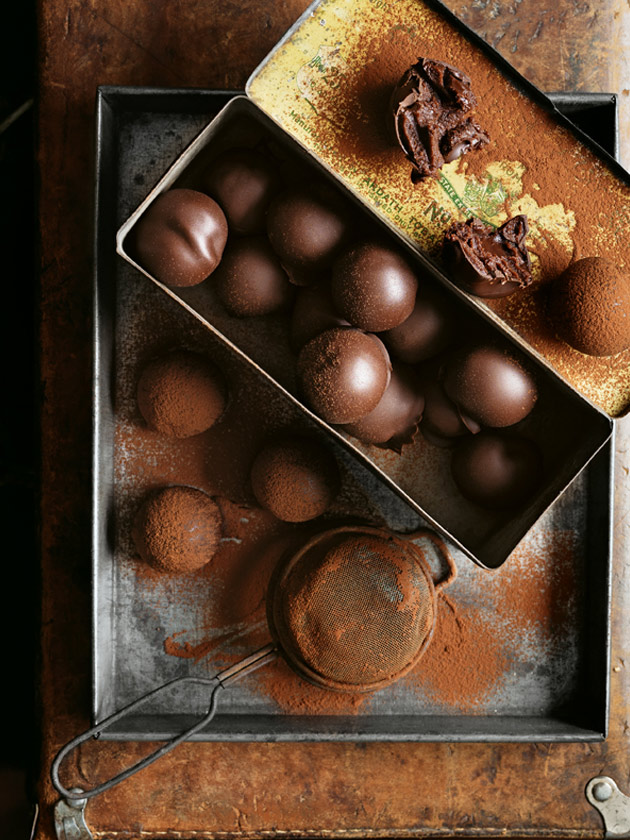 1 cup (250ml) single (pouring) cream
½ cup (110g) caster (superfine) sugar
¼ cup (60ml) water
50g butter, softened
250g dark chocolate, roughly chopped
1 tablespoon butterscotch schnapps
200g 70 per cent dark chocolate, melted, extra

Place the cream in a small saucepan over medium heat and bring to a boil. Remove from the heat and set aside.
Place the sugar and water in a medium saucepan over low heat and stir until the sugar is dissolved. Increase heat to medium and bring to the boil. Cook for 6–6½ minutes or until a deep-golden+. Remove from the heat and, working quickly, add the cream and butter. Return saucepan to the heat and stir to combine.
Place the chocolate in a bowl, pour over the caramel mixture and schnapps and stir gently until chocolate is melted and mixture is smooth. Place in lightly greased 20cm-square tin lined with non-stick baking paper and refrigerate for 2–3 hours or until set.
Roll tablespoonfuls of the mixture into balls and place on a baking tray lined with non-stick baking paper++. Freeze for 1 hour or until firm.
Dip the truffles in the melted chocolate and place on a tray lined with non-stick baking paper. Refrigerate for 1 hour or until set. Makes approximately 22

+ It's important the caramel is deep-golden in colour, as adding the cream and butter will arrest the cooking process. If the caramel is too pale, it will have a weak flavour. And if it's too dark, it will taste bitter.
++ Dip a tablespoon in hot water and pat dry to help roll the mixture into balls. Use a skewer to help remove the truffles from the tablespoon.
There are no comments for this entry yet.