anzac caramel slice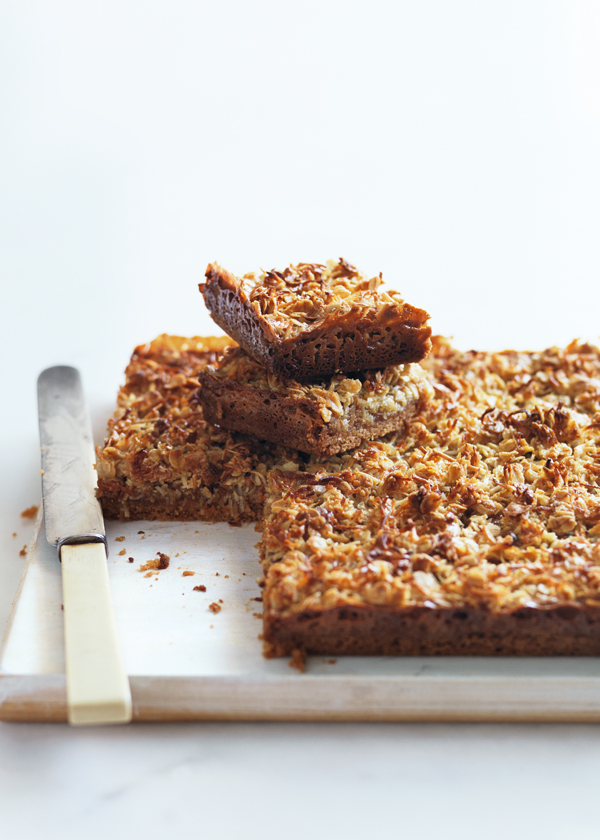 1 cup (150g) self-raising flour, sifted
½ cup (40g) desiccated coconut
½ cup (90g) brown sugar
220g unsalted butter, melted
1 cup (75g) shredded coconut
1 cup (90g) rolled oats
⅓ cup (115g) golden syrup
1 x 380g can store-bought caramel filling or dulce de leche, softened

Preheat oven to 180ºC. Place the flour, desiccated coconut, sugar and 140g butter in a bowl and stir until the mixture resembles coarse breadcrumbs. Using the back of a spoon, press the mixture into the base of a 20cm x 30cm tin lined with non-stick baking paper and bake for 20–25 minutes or until golden. Allow to cool for 10 minutes.
Place the shredded coconut, oats, golden syrup, and remaining butter in a bowl and mix to combine. Spread the caramel over the cooled base and spoon over the oat topping. Bake for a further 20–25 minutes or until golden. Allow to cool completely before cutting into squares to serve. Makes 20.

Jenny O'Connor
I make this regularly for my cafe, it's quick, easy and the customers love it. I am making it tomorrow morning for Christmas but I am going to try to convert it to vegan, I really hope it works. Looking forward to seeing how it goes .
Melina Dimunno
I made this and everyone really enjoyed this. So easy. Thanks Donna
donna hay team
Hi Kimberly, store it at room temperature in an air tight container. The DH Team.
Kimberly Mercuri
Delicious recipe! I tried it for the first time tonight and wanted to know what is the best way to store the slice, and for how long will it keep? Thanks!
Laina Leuenberger
This slice is super easy and delicious, however very gooey and soft set! Any ideas on what could be added to the caramel so it firms up a bit during baking? For the base, I added about 20-30g less butter as it was already resembling bread crumbs at that point. I also held back about the same in the crumble topping as it was getting quite wet. Would make again with these small changes
donna hay team
Hi Carole, all of our recipes are cooked using fan-forced oven temperatures, so there's no need to reduce the temperature from the one stated in the recipe. If your mix is too sloppy, the only other thing I can think of perhaps you added all the butter at once in step one. Only 140g is meant to go in at this stage. Hope that helps! The DH team.
Carole Mitchell
I have tried cooking this twice:
1) used alfoil lined smaller cake tin and found the caramel slice too soft and it was undercooked and crumbly. I had baked this at 160 degrees fan forced
2) used baking paper correct size tin and found caramel stuck to sides of paper and was crumbly I had baked this at 170 degrees fan forced
The recipe says to stir until the mixture resembles coarse breadcrumbs and it just goes into a buttery ball and not breadcrumbs. What am I doing wrong! Help!!! BUT tastes good but messy and crumbly both times ...
Ali Cullen
SO delicious!! I was looking for something a li'l different to make this Anzac day & this recipe did not disappoint
I'm making it for the second time today, my boys LOVE it, it's def a new favorite..thanks Donna hay! xoxo