raw caramel slice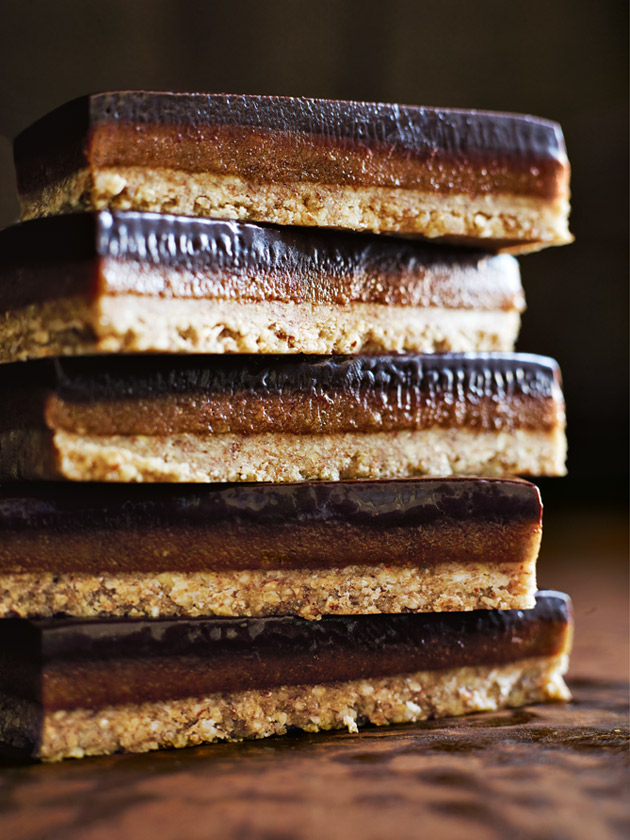 ⅓ cup (35g) raw cacao powder

¼ cup (60ml) coconut oil, melted

½ cup (180g) rice malt syrup

base
¾ cup (120g) almonds

⅓ cup (25g) desiccated coconut

6 fresh dates, pitted

¼ cup (60g) coconut oil, melted

date caramel
12 fresh dates, pitted

⅓ cup (95g) almond butter

2 tablespoons maple syrup

2 teaspoons vanilla bean paste

pinch sea salt flakes

To make the base, place the almonds, coconut, dates and oil in a food processor and process for 1–2 minutes or until the mixture resembles fine breadcrumbs. Press the mixture into the base of a 20cm x 20cm lightly greased baking tin lined with non-stick baking paper and refrigerate until set.
To make the date caramel, place the dates, butter, maple syrup, vanilla and salt in a food processor and process for 1–2 minutes or until smooth. Spread over the prepared base and return to the fridge.
Place the cacao, oil and rice malt syrup in a heatproof bowl over a saucepan of simmering water and stir for 2–3 minutes or until smooth. Pour the cacao mixture over the date caramel and refrigerate for 2 hours or until set.
Freeze for 30 minutes before slicing into 4cm x 10cm bars to serve. Makes 10.
Tip: The caramel slice needs to be served chilled. If you prefer a harder set, keep in the freezer until ready to serve.
Bianka Nightingale
I made this however the oil seemed to stay separate from the syrup and powder. Should I have done something differently in this step?
donna hay team
Hi Miree, we recommend that the dates are at room temperature before they are added to the food processor. If they are cold from the fridge it may take longer than 1-2 minutes for the 'caramel' to become smooth and spreadable. Also depending on the type of food processor it may take a little longer for the dates to become smooth. There will always be a little texture in the caramel, however it should be spreadable. Happy baking! The DH team
miree mccourt
I made this the other day and found my caramel was very difficult to spread - it didn't blend into a smooth caramel, rather a smooth slightly stiff paste. It tasted lovely but definitely didn't look like the picture! Did I do something wrong?!