brazil nut pie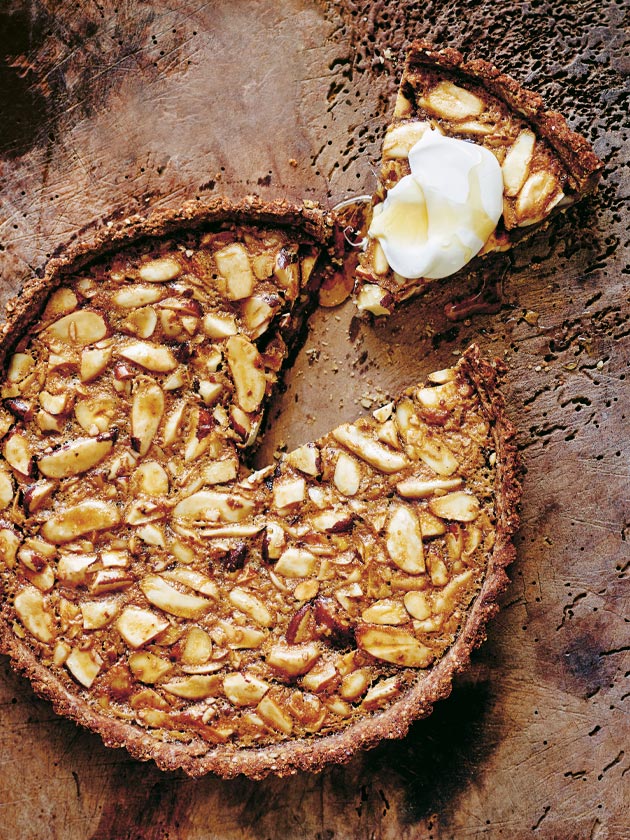 3 eggs

½ cup (90g) rapadura sugar or brown sugar

1 tablespoon honey

2 tablespoons vanilla extract

1½ cups (240g) brazil nuts, roughly chopped

natural Greek-style (thick) yoghurt and honey, to serve
brazil nut pastry
1 cup (160g) brazil nuts, ground

2 teaspoons vanilla extract

½ cup (70g) buckwheat flour (see note, page 102)

1 egg

½ cup (50g) LSA+

2 tablespoons rapadura sugar or brown sugar

Preheat oven to 160°C (325°F).

To make the pastry, place the ground brazil nut, vanilla, flour, egg, LSA and sugar in a bowl and stir to combine. Turn out onto a work surface and bring together to form a smooth dough.

Press the dough into a lightly greased, 22cm loose-based fluted pie tin, trimming the edges.

Place the eggs, sugar, honey and vanilla in a bowl and whisk to combine. Add the nuts and mix to combine. Pour the mixture into the tart shell and cook for 30 minutes or until just set. Refrigerate until cold.

To serve, slice and top with yoghurt and honey. Serves 6–8.
+ LSA is a mixture of ground linseeds, sunflower seeds and almonds. Find it in the health food aisle of the supermarket.
+ Buckwheat flour is rich, nutty and gluten free. It's available from health food stores.
Bea Long
I LOVE this pie! The crust just sends it over the top. WOW, it's delicious.