almond and pear tarts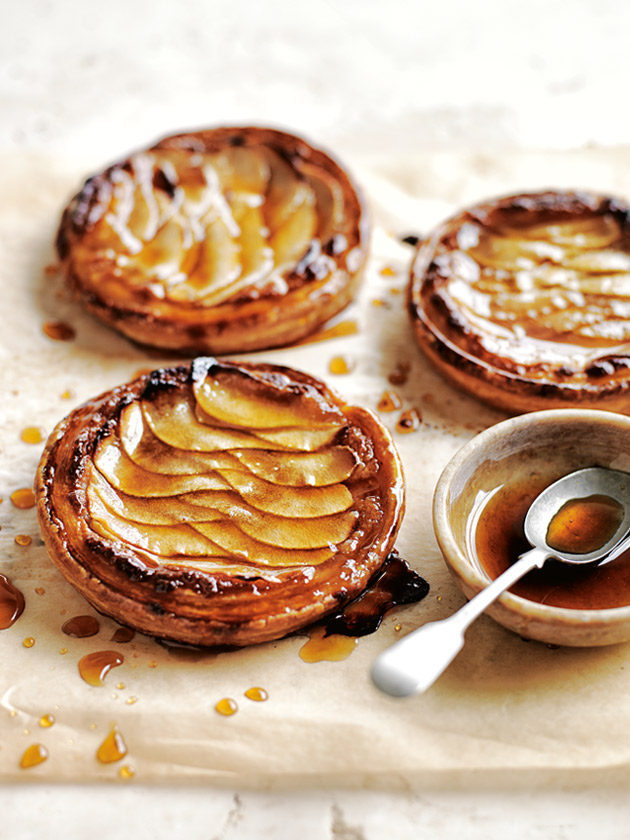 4 sheets frozen butter puff pastry, thawed
2 x 220g firm green pears, peeled, cored and thinly sliced on a mandolin

⅓

cup (80ml) maple syrup, plus

extra to serve
50g unsalted butter, softened
¼ cup (55g) caster (superfine) sugar
½ teaspoon vanilla extract
1 egg yolk

⅔

cup (80g) almond meal
2 tablespoons plain flour
Preheat oven to 200°C. To make the frangipane, place the butter, sugar and vanilla in a small food processor and process for 1–2 minutesor until pale and creamy.
Add the egg yolk, almond meal and flour. Process to combine. Press 2 pastry sheets together to make 1 thick sheet. Repeat with remaining sheets.
Using an 11cm round pastry cutter, cut 6 rounds from the pastry. Place on baking trays lined with non-stick baking paper. Gently score each round using a 10cm round pastry cutter.
Spread 1½ tablespoons of the frangipane evenly onto each round and top with the pear, overlapping slightly. Brush with maple syrup and cook for 15 minutes.
Brush with maple syrup and cook for a further 5–10 minutes or until puffed and golden. Allow to cool slightly and top with maple syrup to serve. Makes 6.
Mylene Clanet
Diane Moyle, I think the by lightly making the mark on the pastry with a small cutter it is to circle out the surface where you're going to place your frangipane and pear. When cooking, the untouched surrounding pastry will puff up, golden as it cooks and make a lovely border as you can see on the picture.
Diane Moyle
Hi, I haven't made this yet as I'm a bit unsure of what you mean by 'gently score using a pastry cutter' after the pastry has been placed on the parchment paper. Thanks for your help…I hope.