classic lemon tart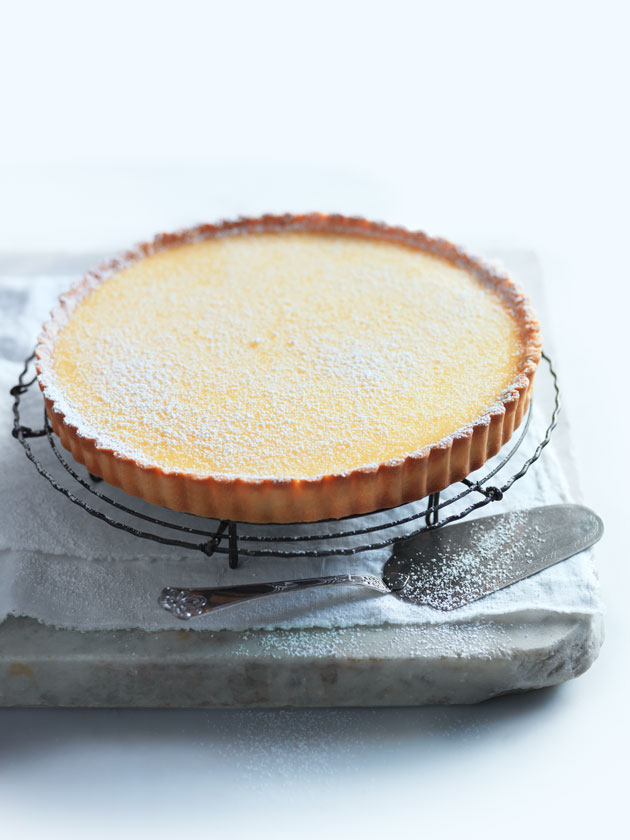 sweet shortcrust pastry
1½ cups (225g) plain (all-purpose) flour

125g chilled unsalted butter, chopped

½ cup (80g) icing (confectioner's) sugar, plus extra, for dusting

2 egg yolks

1 tablespoon iced water

lemon filling
1 cup (250ml) single (pouring) cream

2 eggs

3 egg yolks, extra

½ cup (110g) caster (superfine) sugar

½ cup (125ml) lemon juice

Place the flour, butter and icing sugar in a food processor and process until the mixture resembles fine breadcrumbs. With the motor running, add the egg yolks and process until combined. Add the iced water and process until the dough just comes together. Turn out onto a lightly floured surface and gently bring together to form a ball. Flatten into a disk, wrap in plastic wrap and refrigerate for 1 hour. Roll the pastry out between 2 sheets of non-stick baking paper to 3mm-thick. Preheat oven to 180°C (350°F). Line a lightly greased 22cm loose-bottomed, fluted tart tin with the pastry. Trim the edges and prick the base with a fork. Refrigerate for 30 minutes. Line the pastry case with non-stick baking paper and fill with baking weights. Bake for 15 minutes, remove the paper and weights and bake for a further 10 minutes or until the pastry is light golden. Remove from the oven and set aside. Reduce temperature to 140°C (250°F).
To make the lemon filling, place the cream, eggs, extra yolks, sugar and lemon juice in a bowl and whisk to combine. Strain the mixture into a clean bowl. Transfer the tart to a baking tray and carefully pour the filling into the tart shell.
Bake for 30–35 minutes or until just set. Allow to cool at room temperature before refrigerating until completely set. Dust with icing sugar to serve. Serves 4–6.

donna hay team
Hi Georgina, this tart is best kept in an airtight container in the fridge for up to 4-5 days. the dh team
donna hay team
Hi Satah, we recommend making the pastry no more than a day in advance. Happy baking! the dh team
Satah Cross
How many days in advance can you make the pastry and leave to chill in the fridge before baking?
Georgina B
Just curious as to how long this tart would keep for please?
Julie Parkinson
Have made this twice and has been a big winner both times!
donna hay team
Hi Maddie, We have not tested the recipe for mini tarts, however we do not see an issue with this. As they are smaller, you will need to reduce the cooking time. Make sure you keep an eye on the tarts and cooking until just set. Hope this helps! DH Team
Maddie Janssen
Hi, would this recipe work over mini tarts?
donna hay team
Hi Samantha, we would recommend putting it on a tray, it's easier to move it around on a tray. The DH Team.
Samantha Darnton-Turner
Hi there, just wondering if you take the pastry shell out of the baking tin when you transfer to a baking tray or do you leave in the tin? Thanks.
donna hay team
Hi Chloe, yes you just need to cook it a little longer. When coming out from the oven the tart should have a gentle wobble. It will also continue to set once its been refrigerated.
Chloe Smith
Hi! Just looking for some advice. The first time I made this tart it was absolutely amazing - everyone thought it was store bought! However the second two times I've made it the middle hasn't set properly - is there something I could do to fix this? Could I be under baking it - should I leave it in the oven for another five or so minutes?
Mandy armstrong
Just baked this delicious tart for the second time. This time using eggs fresh from my mothers-in-law's chooks and lemons from my son's tree. A combined family contribution. Can't wait to tuck in.