apple crumble slice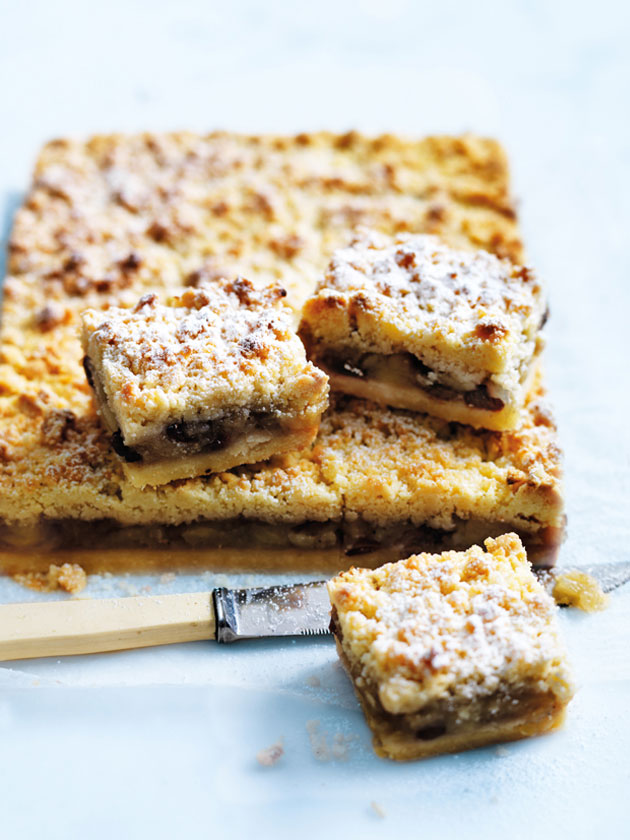 4 cups (600g) plain flour, sifted

1⅓ cups (295g) caster sugar

375g unsalted butter, melted

apple filling
50g unsalted butter, chopped

1.2kg Granny Smith apples, peeled and chopped

¾ cup (135g) brown sugar

¼ teaspoon ground nutmeg

½ cup (80g) sultanas

icing sugar, for dusting

Preheat oven to 180°C. Place the flour, sugar and butter in a large bowl and mix well to combine. Press half the crumble mixture into the base of a 20cm x 30cm lightly greased slice tin lined with non-stick baking paper. Refrigerate for 10 minutes or until firm. Remove from the fridge and cook for 20–25 minutes or until a light golden brown. Set aside.
To make the apple filling, place the butter, apples, sugar, nutmeg and sultanas in a large saucepan over high heat. Cover and cook for 5 minutes. Remove the lid and cook for 2–3 minutes or until the apples are soft and the liquid has been absorbed.
Spoon the filling over the base in an even layer. Sprinkle the remaining crumble mixture over the apples and cook in the oven for 35–40 minutes or until golden brown. Allow to cool in the tin, dust with icing sugar and cut into slices to serve. Makes 16

Tip: You can make the apple filling in advance and keep refrigerated for up to 2 days.
Christine Winter
Such an easy and delicious slice!!! It never lasts too long in our house when I make it either!!
Grace Huynh
This dish is a winner with the family and friends! Hits the sweet spot just right and can substitute even other fruits like pears, or peaches. Will be making this recipe again many times in the future!!
Gloria Lam
I made these just the other week and they were delish! I decided to add some raspberries to the filling of my second batch and it turned out pretty well too.