basic pizza dough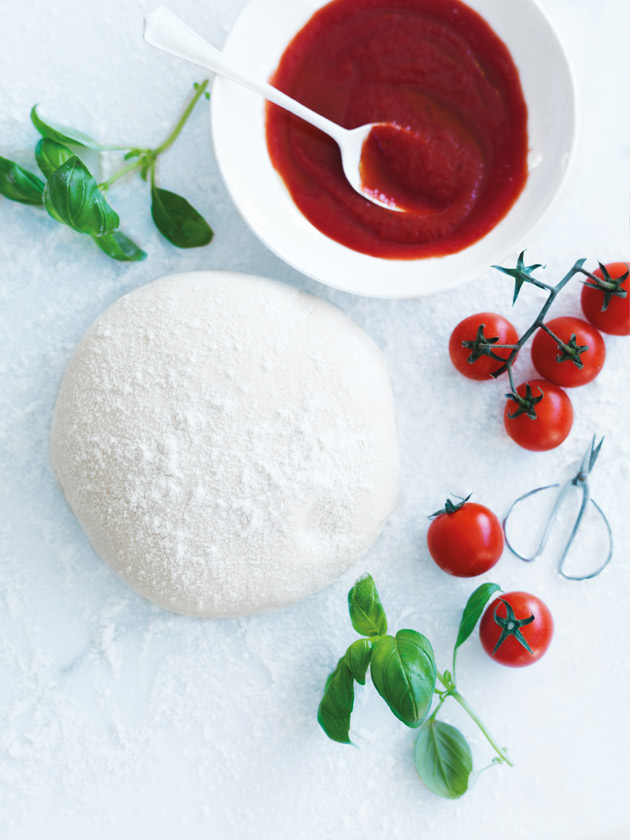 1 teaspoon dried yeast+

¼ teaspoon caster (superfine) sugar

¾ cup (185ml) lukewarm water

1½ cups (225g) plain (all-purpose) flour

½ teaspoon fine salt

Combine the yeast, sugar and water in a bowl. Set aside in a warm place for 10 minutes or until bubbles appear.

Place the flour and salt in a bowl and make a well in the centre. Add the yeast mixture and stir until it comes together. Cover with a clean tea towel and set aside in a warm place for 20–30 minutes or until the dough has doubled in size.++

+ Out-of-date yeast may be inactive, so check the expiry date before using.
++ The optimum temperature for the dough to rise is 27°C
FOR COOKING TIMES,
CLICK RECIPE LINKS BELOW:
Joseph Page
Donna Hay done it again simply the best.
donna hay team
Hi Cat, yes you can use either plain (all-purpose) flour or OO (superfine) flour. Underneath the recipe, we have included links to suggested recipes for cooking times. Happy cooking!
Cat G
Hi donna, your book says 00 flour compared to your recipe here. Can either fliur be used?
Cat G
Hi Donna what temp and how long do you cook the pizza dough in the oven? once dough has risen, and toppings on top. Thankyou
Jessica Johnson
For many years I have tried so many different pizza dough base recipes. But this one….. this one is a winner!! I can make two large thin pizzas with this recipe.
krissi simmons
This recipe makes 1 large or 2 small pizzas. Super easy. Tastes good. Will use it again.