apple, oat and coconut bircher muffins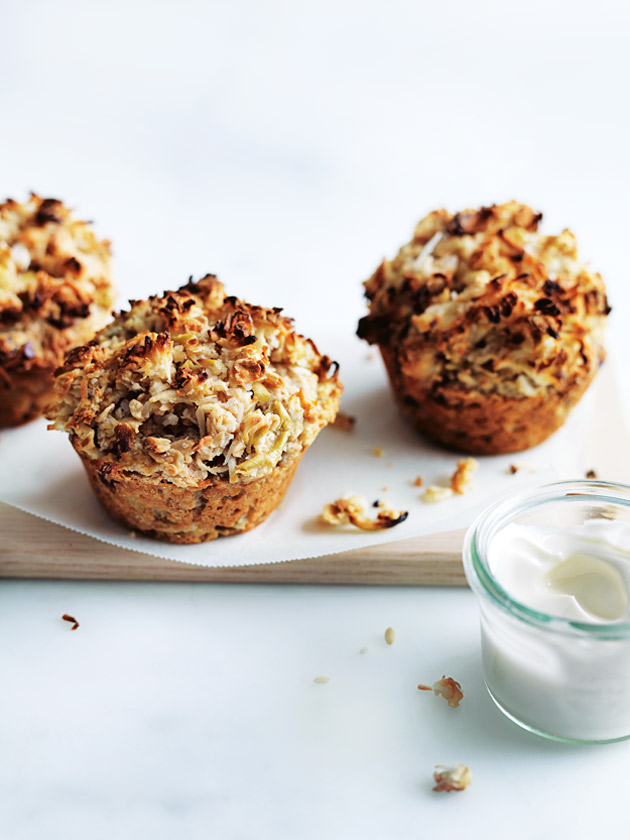 3 cups (500g) grated Granny Smith apple

2 cups (180g) rolled oats

1½ cups (150g) shredded coconut

½ cup (175g) honey

2 teaspoons vanilla extract

⅔ cups (160ml) coconut oil

4 eggs, lightly whisked

2 cups (320g) wholemeal self-raising flour

2 teaspoons ground cinnamon

¾ cup (120g) sultanas

natural Greek-style yoghurt, to serve

Preheat oven to 180°C. Place the apple, oats, coconut, honey and vanilla in a large bowl and mix to combine. Set aside for 10 minutes. Reserve 1 cup of the apple mixture and set aside.

Add the oil, eggs, flour, cinnamon and sultanas to the remaining apple mixture and mix until just combined. Divide the mixture between a 12 x ½-cup-capacity (125ml) lightly greased muffin tin and top with the reserved apple mixture.

Cook for 20 minutes or until cooked when tested with a skewer. Allow to cool for 5 minutes in the tin before turning out onto a wire rack to cool completely. Serve with yoghurt. Makes 12.

donna hay team
Hi Alyce, yes, you could use maple syrup instead of honey! The DH Team.
Alyce Statis
Could you use Maple Syrup instead of Honey?
Emma Graham
I lessened the amount of flour I used in this recipe to 1 cup and it resulted in moist lovely muffins. Really lovely flavour!
donna hay team
Hi Netta, you can swap the flours cup for cup eg: 2 cups plain flour (300g). The texture will vary slightly from the original recipe. Please let us know how you get on as we have not tested with plain flour. The DH team
Netta McInnerney
What is the equivalent of ordinary flour instead of wholemeal?
lara Coventry
I had come across these muffins on Sunday morning and could not resist but to bake them - I find that the mixture is extremely dry, as though the mixture has to be pressed into muffin cases?? Has anyone else found this? Otherwise the taste is delectable..