cheat's croque madame pizza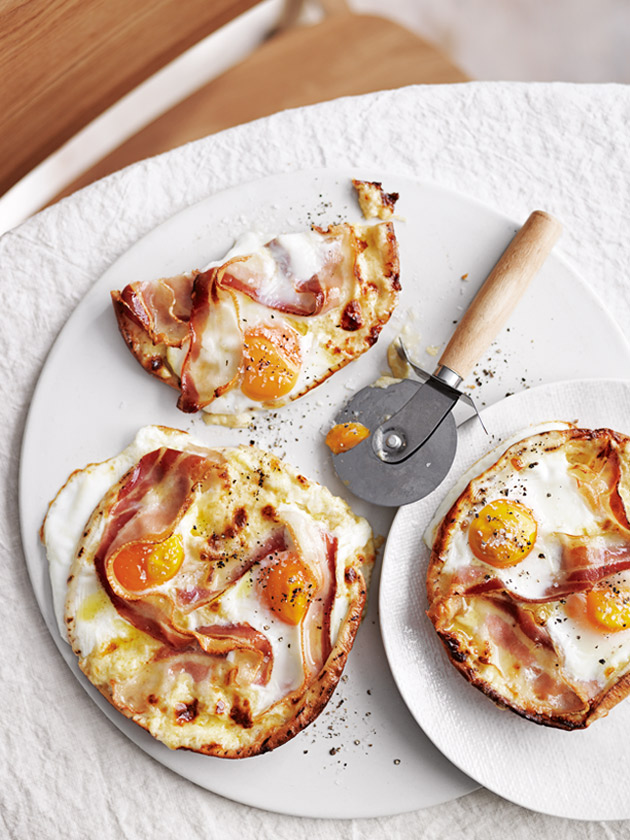 ¾ cup (90g) grated cheddar

¾ cup (90g) grated gruyere

¾ cup (180g) sour cream

3 teaspoons Dijon mustard

1 teaspoon Worcestershire sauce

sea salt and cracked black pepper

6 small Lebanese flatbreads

12 slices flat pancetta

12 eggs

Preheat oven to 220°C (425°F). Place the cheddar, gruyere, sour cream, mustard, Worcestershire sauce, salt and pepper in a medium bowl and mix to combine.
Place the flatbreads on 2 large oven trays lined with non-stick baking paper and spread each with the cheese mixture.
Top each flatbread with 2 slices of the pancetta and crack over 2 of the eggs+.
Cook for 20 minutes or until the cheese is golden and the egg is just cooked. Sprinkle with salt and pepper and slice to serve. Serves 4.
+ To help keep the eggs from sliding off the flatbread, lay the pancetta in a crescent shape and crack the egg into the crescent.
There are no comments for this entry yet.