Cinnamon and vanilla oven-roasted granola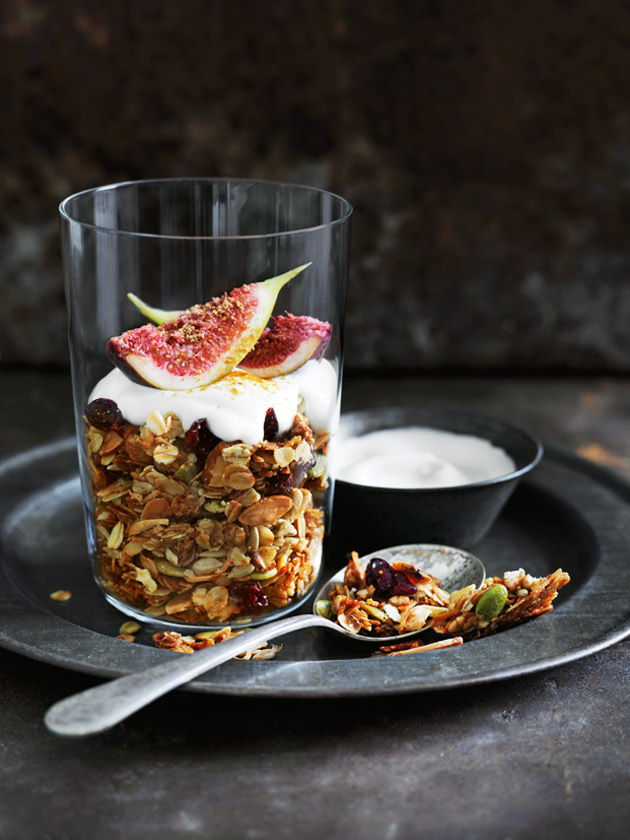 ¾ cup (120g) rapadura sugar, plus extra for sprinkling

¼ cup (60ml) apple juice or orange juice

½ cup (125ml) light-flavoured extra virgin olive oil

1 tablespoon ground cinnamon

1 tablespoon vanilla extract

4 cups (480g) rolled oats

1 cup (140g) sliced almonds*

1 cup (150g) sunflower seeds

1 cup (160g) pepitas (pumpkin seeds)

1 cup (75g) shredded coconut

1 cup (150g) dried cranberries

natural Greek-style (thick) yoghurt and fresh figs, quartered, to serve

Preheat oven to 180°C (350°F). Place the rapadura sugar and juice in a large bowl and mix until the sugar has dissolved. Add the olive oil, cinnamon and vanilla and mix to combine.
Add the oats, almonds, sunflower seeds, pepitas, coconut and cranberries and mix until the ingredients are combined.
Spread the mixture onto 2 large baking trays lined with non-stick baking paper and bake for 10 minutes. Carefully stir the granola on the trays and then bake for a further 10 minutes or until golden. Cool on trays. Spoon into serving glasses and top with yoghurt and figs. Sprinkle with extra sugar to serve. Makes 12 cups.
*You can leave out the almonds if you wish to be nut-free.
Note: To store, place the granola in an airtight container for up to 2 months.
Tips + Tricks:
Most of the natural nutrients are retained in unrefined rapadura sugar, which makes it a great choice for this feel-good granola – the perfect start to your morning! It also adds a delicate caramel flavour to this nutritious mix of nuts and seeds.
There are no comments for this entry yet.