Salted caramel choc-chip cookies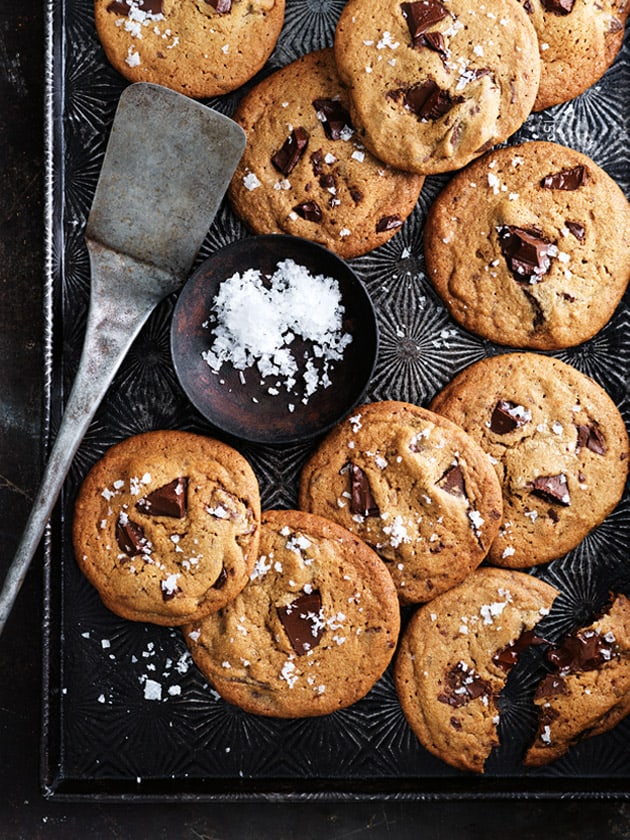 200g unsalted butter, chilled, chopped

1¼ cups (300g) CSR Dark Brown Sugar, firmly packed

½ cup (110g) CSR Raw Caster Sugar

1 teaspoon vanilla extract

1 egg

2 tablespoons CSR Golden Syrup

2 cups (300g) plain (all-purpose) flour

¼ teaspoon bicarbonate of (baking) soda

¼ teaspoon baking powder

300g dark chocolate, roughly chopped

sea salt flakes, to serve

Preheat oven to 160°C (325°F). Place the butter, sugars, vanilla, egg and golden syrup in the bowl of an electric mixer and beat, scraping down the sides of the bowl, for 8 minutes or until light and creamy.
Add the flour, bicarbonate of soda, baking powder and chocolate and mix to combine.
Place heaped tablespoons of the mixture onto large baking trays lined with non-stick baking paper, allowing room to spread. Bake for 12-14 minutes or until just golden.
Set aside to cool on trays for 5 minutes before transferring to a wire rack to cool completely. Repeat with remaining mixture. Sprinkle with salt to serve. Makes 28.
Tips + Tricks:
The addition of dark brown sugar gives a rich, malty flavour to these cookie treats, and also helps keep them nicely soft and chewy on the inside.
There are no comments for this entry yet.