chocolate salted caramel cookies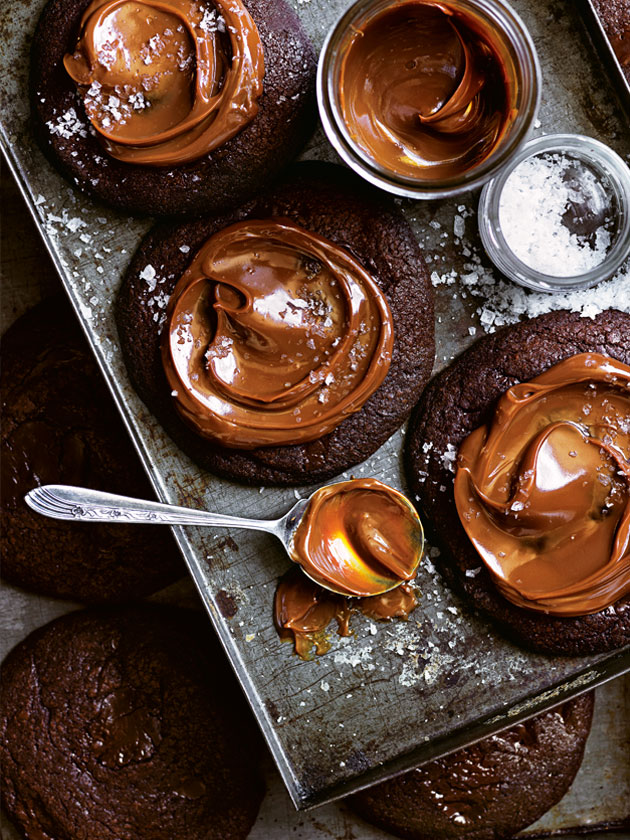 200g unsalted butter, melted and cooled

1 cup (175g) light brown sugar

¾ cup (165g) white (granulated) sugar

1 egg

1 egg yolk, extra

2 teaspoons vanilla extract

¼ teaspoon baking powder

½ teaspoon bicarbonate of (baking) soda

1 teaspoon water

2 cups (300g) plain (all-purpose) flour

¼ teaspoon table salt

⅓ cup (35g) cocoa powder

2 tablespoons milk

300g 70% dark chocolate, chopped

⅔ cup (200g) store-bought thick caramel or dulce de leche

sea salt flakes, for sprinkling

Preheat oven to 160°C (325°F). Line 2 large baking trays with non-stick baking paper. Place the butter and both the sugars in the bowl of an electric mixer and beat on medium speed for 6–8 minutes or until sandy in texture. Add the egg, extra yolk and vanilla, increase the speed to high and beat for 2 minutes or until pale and creamy. Place the baking powder, bicarbonate of soda and water in a small bowl and mix to combine. Add the baking powder mixture, flour, table salt, cocoa, milk and chocolate to the butter mixture and beat on low speed until just combined.

Working in batches, shape 1⁄4-cup (60ml) portions of the dough into balls and place on the trays, allowing room to spread+. Bake for 18–20 minutes or until golden brown and firm to the touch. Allow to cool on the trays for 10 minutes, before transferring to wire racks to cool completely. Repeat with the remaining dough to make a total of 15 cookies.

Spread cookies with the caramel and sprinkle with sea salt to serve. Makes 15
Photography: Chris Court
+ This recipe makes 15 large cookies. To make regular-sized cookies, simply shape 2-tablespoon portions of the dough into balls and place onto the trays, allowing room to spread. Bake for 14–16 minutes.
Tip: You can store these cookies, without the caramel and sea salt, in an airtight container for up to 4 days.
There are no comments for this entry yet.