rhubarb crumble muffins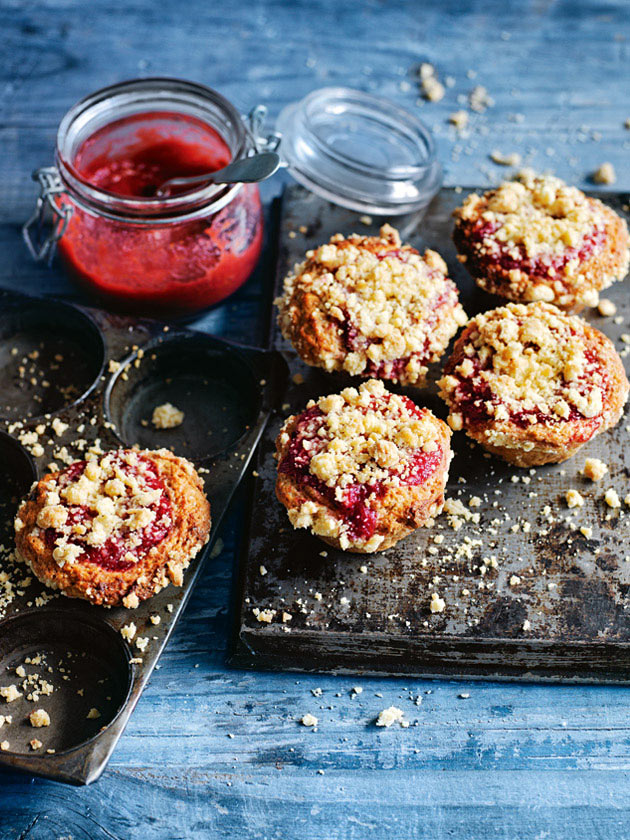 300g rhubarb, trimmed and chopped

1 vanilla bean, split

½ cup (110g) caster (superfine) sugar

1 teaspoon finely grated orange rind

¼ cup (60ml) orange juice

2½ cups (375g) self-raising (self-rising) flour

1 cup (175g) brown sugar

1 teaspoon ground cinnamon

1 teaspoon ground ginger

2 eggs, lightly beaten

2 teaspoons vanilla extract

½ cup (125ml) buttermilk

½ cup (125ml) vegetable oil

crumble topping
½ cup (75g) self-raising (self-rising) flour

2 tablespoons Demerara sugar

40g unsalted butter, melted

Preheat oven to 180°C (350°F). Place the rhubarb, vanilla bean, sugar, orange rind and juice in a medium saucepan over medium heat.

Bring to a simmer and cook, stirring, for 6 minutes or until soft. Set aside to cool slightly. While the rhubarb is cooling, make the crumble topping.

Place the flour, Demerara sugar and butter in a medium bowl and mix until just combined. Set aside. Place the flour, sugar, cinnamon and ginger in a large bowl.

Add the egg, vanilla extract, buttermilk and oil, and, using a butter knife, mix until just combined. Spoon into 12 x ½-cup-capacity (125ml) well-greased muffin tins.

Top each with the rhubarb and spoon over the crumble. Cook for 20 minutes or until cooked when tested with a skewer. Set aside to cool for 2 minutes in the tins before transferring to a wire rack to cool completely. Makes 12.

Kate Linden
The stewed rhubarb is sensational. Muffins also very nice.