soufflé omelette with crispy chorizo and brie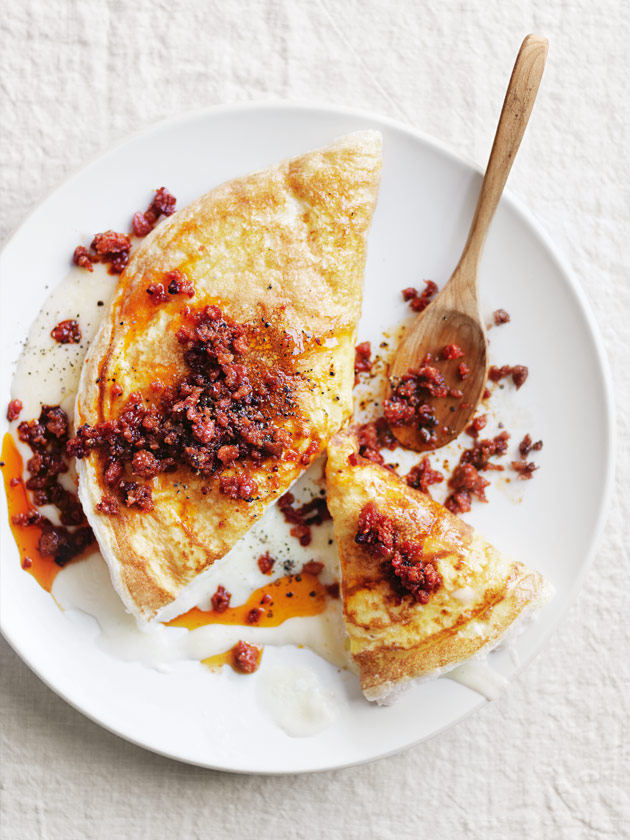 1 fresh chorizo, case removed and chopped
1 tablespoon extra virgin olive oil, plus extra for brushing
1 egg yolk
1 tablespoon milk
3 eggwhites
150g triple cream brie, rind removed and sliced
Place the chorizo in a small food processor and process until finely chopped. Heat the oil in a medium frying pan over high heat. Add the chorizo and cook for 4 minutes or until crispy. Set aside and keep warm.
Place the egg yolk and milk in a small bowl and whisk together. In a separate bowl, whisk the eggwhites to stiff peaks. Whisk the egg yolk mixture into the eggwhite. Heat a 22cm non-stick frying pan over medium heat and brush with the oil.
Add the egg mixture and swirl to spread evenly. Cook for 3 minutes or until the omelette is puffed and the top is just set. Top with the brie and cook for a further 2 minutes or until melting. Using a spatula, fold the omelette over. Top with the crispy chorizo to serve. Serves 2.
There are no comments for this entry yet.