brownie cookies
with peanut butter frosting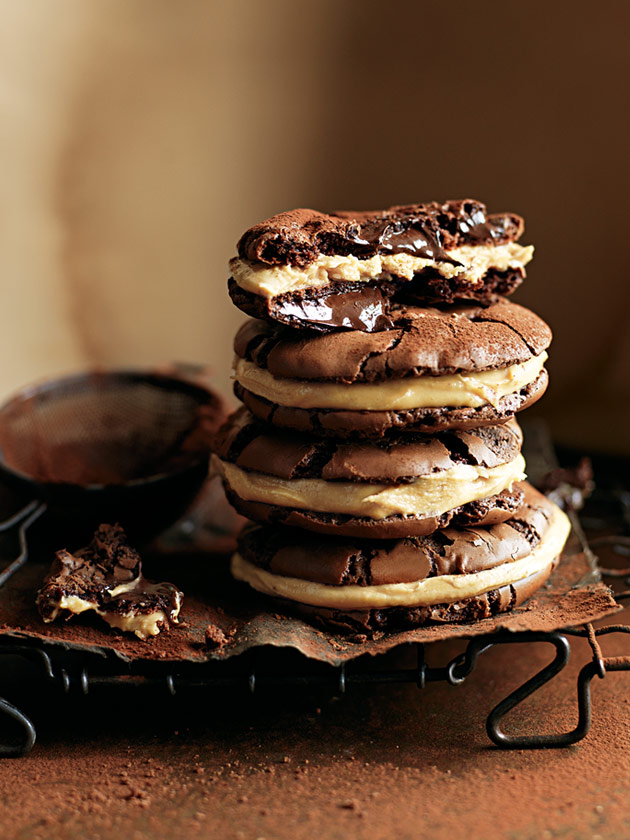 350g dark chocolate, chopped

40g butter

2 eggs

⅔ cup (150g) caster (superfine) sugar

1 teaspoon vanilla extract

¼ cup (35g) plain (all-purpose) flour, sifted

¼ teaspoon baking powder, sifted

peanut butter frosting
1 cup (160g) icing (confectioner's) sugar mixture

1 cup (280g) smooth peanut butter

80g butter

1 teaspoon vanilla extract

⅓ cup (80ml) single (pouring) cream

Preheat oven to 180°C (350°F). Place 200g of the chocolate and the butter in a small saucepan over low heat and stir until melted and smooth. Set aside.

Place the eggs, sugar and vanilla in the bowl of an electric mixer and whisk for 15 minutes or until pale and creamy. Stir through the flour, baking powder, chocolate mixture and remaining chocolate and allow to stand for 10 minutes.

Spoon tablespoonfuls of the mixture, at a time, onto baking trays lined with non-stick baking paper. Bake for 8–10 minutes or until puffed and cracked. Allow to cool completely on trays.

To make the peanut butter frosting, place the sugar, peanut butter, butter and vanilla in an electric mixer and beat for 6 minutes or until light and fluffy. Add the cream and beat for a further 2 minutes. Spread half the cookies with the peanut butter frosting and sandwich with the remaining cookies. Makes 12.

donna hay team
Hi Hannah, we recommend using dark chocolate instead of milk chocolate, as we find the recipe becomes too sweet. Hope this helps! The DH Team
Hannah P
Can the dark chocolate be replaced with milk?
Kristen Riddell
These cookies are amazing. I think i had 40gm of flour though… I also filled with Nutella buttercream!
Angelica Deb
I followed the recipe exactly to how it was written. The mixture was still so runny and spread to much even though I did let it rest for 15 minutes. The cookies did rise but spread to much to large sizes cookies. I think 35g isn't enough flour perhaps
Jo Butler
Oh my gosh. These are so yummy even though I messed up my amounts a bit. They still taste great. I love the peanut butter frosting.
donna hay team
Hi Justine, you can store them in a tupperware container outside of the fridge if they are un-iced. if iced, however, you will need to keep them in the fridge.
Justine Nelson
Hi, how should these be stored? Tupperware container in fridge or pantry? Thank you!
nikki mcleod
These cookies are scrumptious indeed. Not for the fainthearted only as a treat! We can sell 12 of these in our tiny coffee shop within and hour and a half
Narelle Mills
Scrumptious, irresistible cookies that are easy to make!
donna hay team
Hi Cecelia, we have no experience with baking at altitude unfortunately - sounds as though you are more of an expert than us! The only advice with this recipe is that we let them stand for 10 minutes to help form a crust and the crackle on the cookies. If flour helps hold structure in baking at altitudes then it sounds like a good place to start. Love to hear how you get on!
Cecelia Thomas
Any suggestions for high altitude? Normally I add more flour but this recipe looks like egg is the focus so I'm hesitant to add it here
donna hay team
Hi Leila, we test all our recipes with unsalted butter unless we specify salted. Feel free to use salted in the recipe but check the flavour of your peanut butter as some are saltier than others. The DH team
Susan Harriaon
Absolutely great. Super tasty. Boyfriend loved them. Quick and easy to make. For people saying they didn't work. Obvisould they did not follow the recipe. These are sweet and indulgent, Duh. what else does anyone expect. Yummy! Thank you.
Leila Stevens
Does it matter whether you use salted or unsalted butter for this recipe?
Claire Collingwood
What a gorgeous recipe! If you follow the instructions, they come out just like the photographs. Very sweet and delicious, love the dark chocolate….very indulgent. Thankyou
donna hay team
Hi Kyla, it is important to leave this cookie dough to rest for 10 minutes before spooning it onto baking trays- it will become firmer as it rests making sure they do not spread. The DH team
kyla w
The cookies didn't rise at all. They spread across the tray and joined together…wouldn't recommend