peanut butter and chocolate brownie ice-cream bars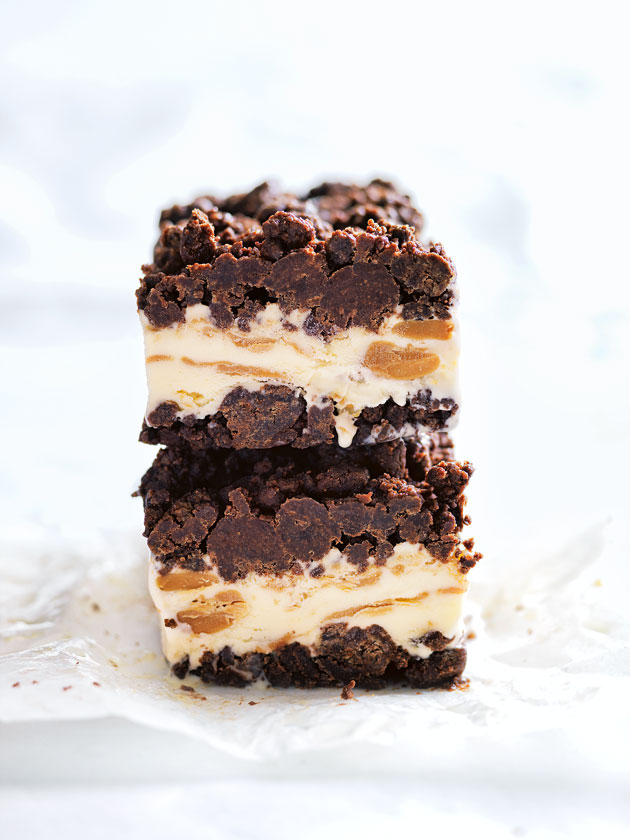 800g store-bought chocolate brownies
⅔ cup (190g) smooth peanut butter
2 litres store-bought vanilla ice-cream
¾ cup (210g) smooth peanut butter, extra

Break the brownies into pieces and place in a food processor with the peanut butter. Process until just combined and the mixture resembles coarse breadcrumbs.
Divide the mixture in half and press one half gently into the base of a lightly greased 20cm x 30cm slice tin lined with non-stick baking paper. Freeze the tin until ready to use. Reserve the remaining half of the brownie mixture.
Scoop the ice-cream into the bowl of an electric mixer and beat on low speed for 1–2 minutes or until softened. Fold the extra peanut butter through until just combined.
Transfer the ice-cream mixture into the prepared tin and smooth the top with a palette knife. Top with the reserved brownie mixture and press gently using your fingers to create an even surface. Freeze for 4–5 hours or overnight until set. Cut into squares to serve. Makes 15.

There are no comments for this entry yet.