chocolate éclairs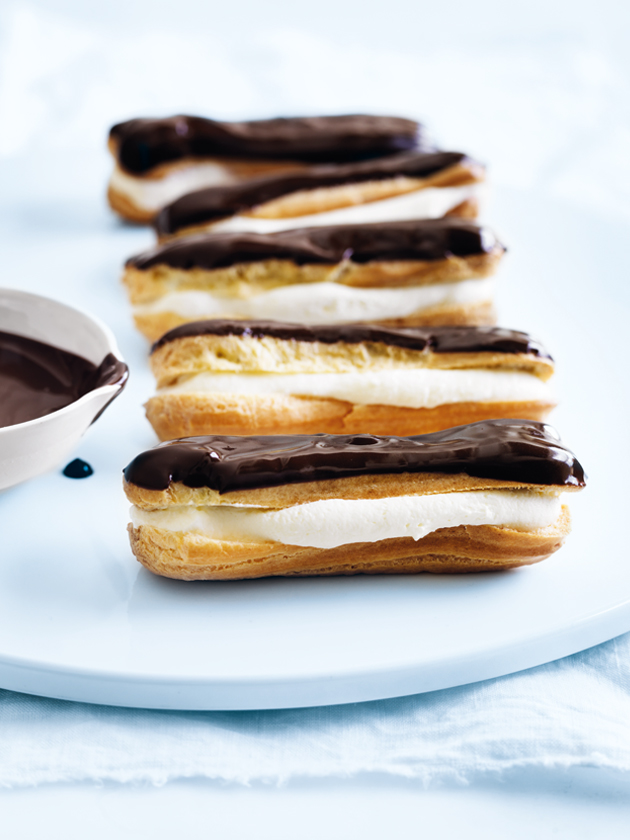 ½ cup (125ml) water

¼ cup (60ml) milk

¼ teaspoon sea salt flakes

¼ teaspoon caster sugar

80g unsalted butter, chopped

¾ cup (110g) plain flour, sifted

3 eggs, lightly beaten

150g dark chocolate, melted

¾ cup (185ml) single (pouring) cream

2 tablespoons icing sugar, sifted

1 teaspoon vanilla extract

Preheat oven to 180°C. Place the water, milk, salt, sugar and butter in a medium saucepan over medium heat and cook, stirring, until the butter is melted and the mixture is boiling. Reduce the heat to low, add the flour and beat with a wooden spoon for 2 minutes or until the mixture is smooth and comes away from the sides of the pan.

Transfer to the bowl of an electric mixer and beat on medium speed for 1 minute or until cooled slightly. Add half the egg and beat until combined. Gradually add the remaining egg and beat for 1–2 minutes or until the mixture is smooth and well combined.

Spoon the mixture into a piping bag fitted with a 1cm star nozzle. Pipe 12 x 12cm lengths onto lightly greased baking trays lined with non-stick baking paper. Bake for 20–25 minutes or until puffed and golden. Allow to cool completely on the trays.

Place the cream, icing sugar and vanilla in a bowl and whisk until soft peaks form. To assemble the éclairs, use a small, sharp knife to cut the pastries in half and pipe the cream into the centre. Dip the top of each éclair in the chocolate and refrigerate until just set. Makes 12.

+ Beat the mixture well in-between each addition of egg. It will initially look as though the egg is separated from the mixture. Keep beating until smooth. If, when you lift up the beater, you can see ribbons form on the surface of the mixture, you know the eggs are well combined and you can add the remainder of the egg.
+ Éclairs are best eaten on the day they are made, when the pastry is crisp and fresh. You can make the pastry a few hours ahead and store in an airtight container. Fill and ice just before serving.
Maria A
Easy recipe to follow! If you want a crispy pastry cool with oven door ajar & when icing your pastry put a thick layer of chocolate there's nothing better than biting on chocolate that cracks in your mouth
Maria A
After making the first time you'll realise how easy they are. If you like a crispy pastry leave in oven to cool with door ajar. Make sure when topping with chocolate you put a thick layer. Nothing better than biting down on an eclair to hear the cracking of chocolate… yum!