chocolate ice-creams
with torched meringue and chocolate sauce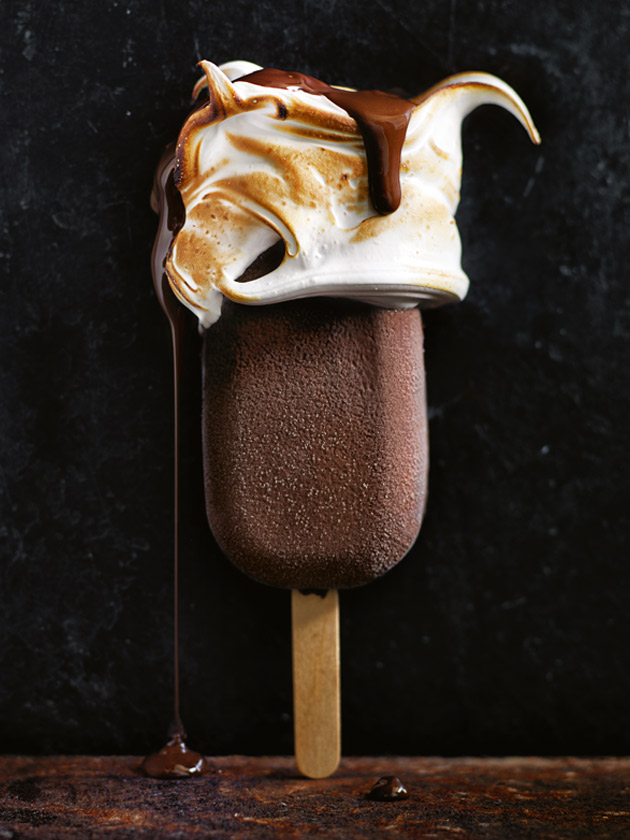 3 cups (750ml) chocolate ice-cream

100g dark chocolate, melted

1 teaspoon vegetable oil

¼ cup (60ml) water

¼ teaspoon cream of tartar

¾ cup (165g) caster (superfine) sugar

2 eggwhites

Scoop the ice-cream into the bowl of a stand mixer and beat on low speed for 1 minute or until softened.
Spoon the ice-cream into 6 x ⅓-cup-capacity (80ml) popsicle moulds. Insert popsicle sticks and freeze for 8 hours or overnight.
Remove the ice-creams from their moulds and place on a baking tray lined with non-stick baking paper. Place in the freezer until ready to use.
Place the chocolate and oil in a small bowl and mix to combine. Set aside. Place the water, cream of tartar and ½ cup (110g) of the sugar in a small saucepan over high heat.
Cook, stirring, until the sugar has dissolved. Bring to the boil, reduce heat to medium and cook for 4 minutes.
Place the eggwhites in the bowl of a stand mixer and whisk on high speed until stiff peaks form. While the motor is running, add the remaining sugar, 1 tablespoon at a time, whisking until thick and glossy.
Gradually add the hot sugar syrup in a thin, steady stream and whisk for 4 minutes or until glossy and cool.
Using a palette knife, spoon the meringue onto the top of each popsicle. Using a kitchen blowtorch, lightly torch the meringue until golden brown. Spoon over the chocolate sauce and serve immediately. Makes 6.
There are no comments for this entry yet.