chocolate tiramisu mousse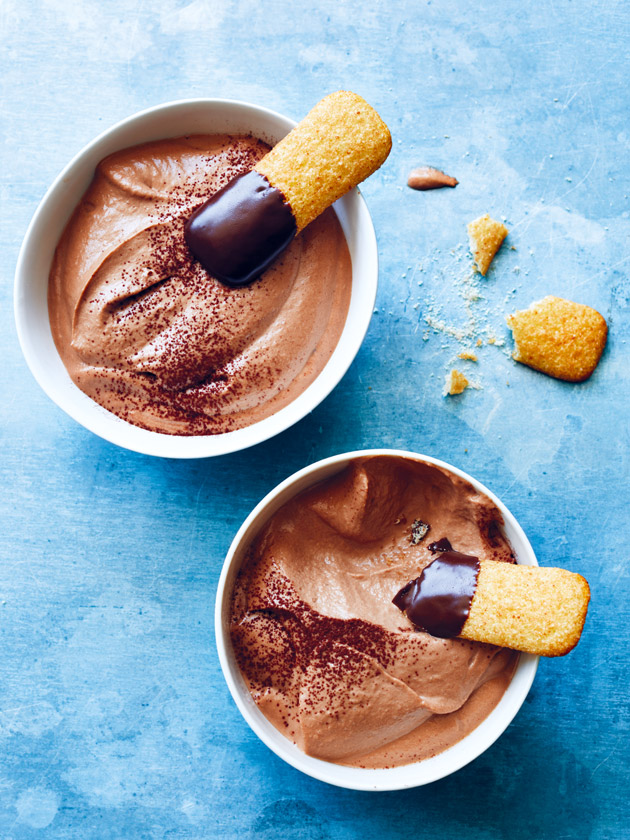 2 tablespoons espresso coffee

1¼ cups (310ml) single (pouring) cream

50g dark chocolate, finely chopped

½ cup (125g) mascarpone

¼ cup (40g) icing sugar, sifted

8 mini store-bought sponge finger biscuits

50g dark chocolate, extra, melted

cocoa powder, for dusting

Place the coffee, ½ cup (125ml) of the cream and the chopped chocolate in a small saucepan over medium heat and stir until melted and smooth. Transfer to the bowl of an electric mixer. Allow to cool slightly.
Add the mascarpone, the remaining cream and the sugar. Whisk on high speed until stiff peaks form. Spoon into 4 x 1-cup-capacity (250ml) serving bowls and refrigerate for 20 minutes.

Line a tray with non-stick baking paper. Dip the biscuits halfway into the chocolate, place on the tray and refrigerate for 10 minutes or until set.

Dust the mousse with the cocoa and serve with the chocolate-dipped biscuits. Serves 4
+ You can keep this mousse refrigerated for up to 3 days.
Katie W
The Mousse works if you whip the remaining cream mascarpone & icing sugar until stiff peaks form.
Then fold in your chocolate mixture gradually.
Otherwise the mixture will split.
donna hay team
Hi Heather, When finishing step one, allow the mixture to cool slightly longer, to around room temperature, before continuing to step two. This will help prevent the mixture from splitting. Hope this helps. DH Team
Heather Porter
Hi there, the mixture split before getting to stiff peaks. Any tips?