christmas pudding snowman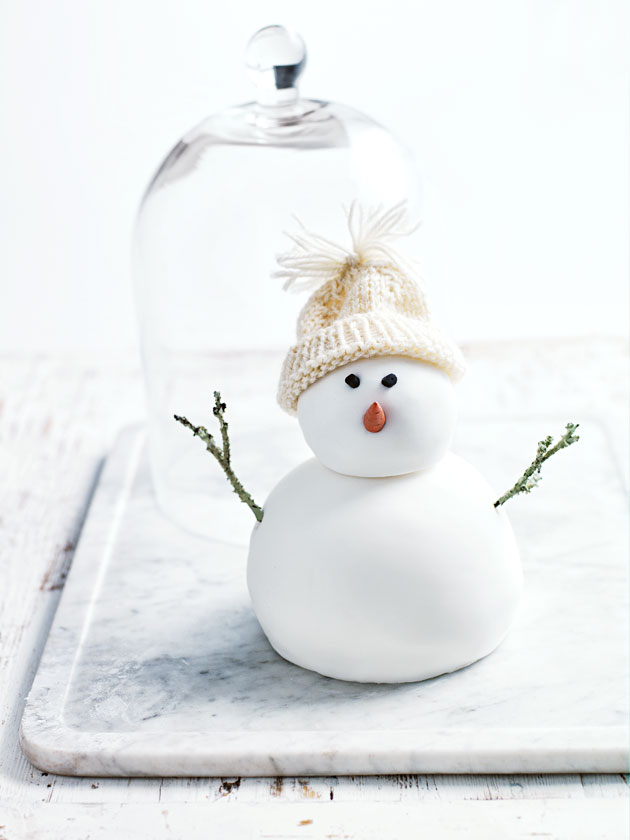 2 x 500g pieces store-bought ready-to-roll white fondant icing
1 x 500g store-bought Christmas pudding (see tip), unwrapped and patted dry
1 x 120g store-bought Christmas pudding (see tip), unwrapped and patted dry
orange food colouring, to decorate
licorice, 2 twigs and a small knitted hat (optional), to decorate

Knead each piece of fondant on a clean surface until soft. Roll each piece out between two sheets of non-stick baking paper to 1cm thick. Drape fondant over each Christmas pudding and wrap to enclose, trimming and reserving any excess. Allow the wrapped puddings to stand at room temperature for 30 minutes to 1 hour, or until the fondant is dry to touch.
Place a toothpick in the top of the large pudding and attach the small pudding on top.
To decorate the snowman, knead a drop of orange food colouring into the remaining fondant. Roll a small piece into a carrot shape, score with a small knife and allow to set for 30 minutes. Press onto the small pudding as a nose. Cut two small rounds of licorice for the eyes, insert twigs for the arms and top the snowman with a small knitted hat.


Tip: Click here to buy Christmas puddings. Your Christmas pudding snowman will keep for up to two weeks.
There are no comments for this entry yet.