LEMON CRANBERRY AND PISTACHIO CHRISTMAS TUILLES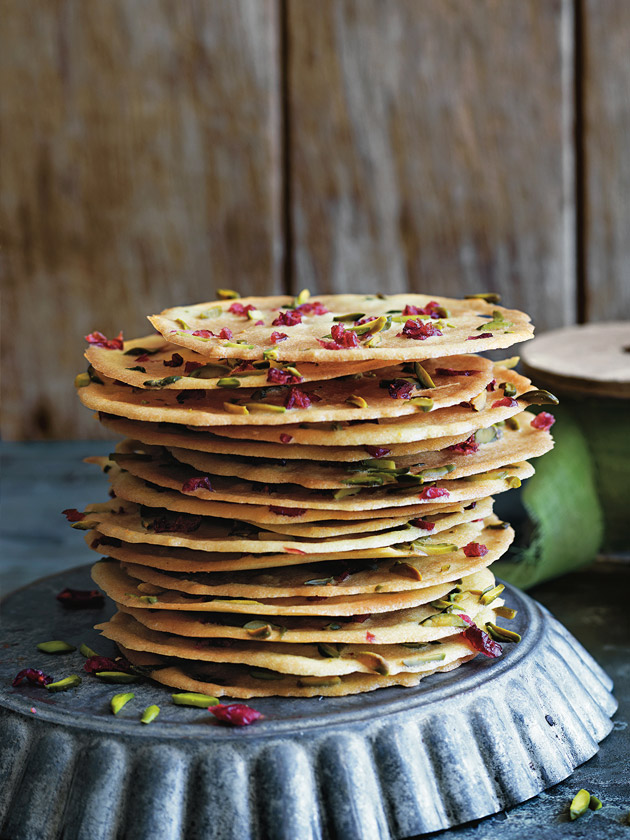 ¼ cup (55g) caster (superfine) sugar

1 eggwhite

2½ tablespoons plain (all-purpose) flour

1½ tablespoons extra virgin olive oil
1 teaspoon finely grated lemon rind

½ teaspoon vanilla extract

2 tablespoons slivered pistachios

2 tablespoons finely chopped dried cranberries
Preheat oven to 180°C (350°F). Line 2 large oven trays with non-stick baking paper. Whisk the sugar and eggwhite in a medium bowl for 1 minute or until frothy. Sift over the flour and whisk in the oil, lemon rind and vanilla until smooth. Stand for 5 minutes.
Place 1 teaspoon of the batter onto one of the trays. Spread with the back of a spoon to a very thin 8cm round. Repeat to make 16 rounds. Sprinkle with the pistachio and cranberry.

Cook for 5–6 minutes or until the edges are golden. Transfer the tuilles on the baking paper to a wire rack. Set aside until cooled and crisp. Serve. Makes 16.
There are no comments for this entry yet.