rosemary and almond biscotti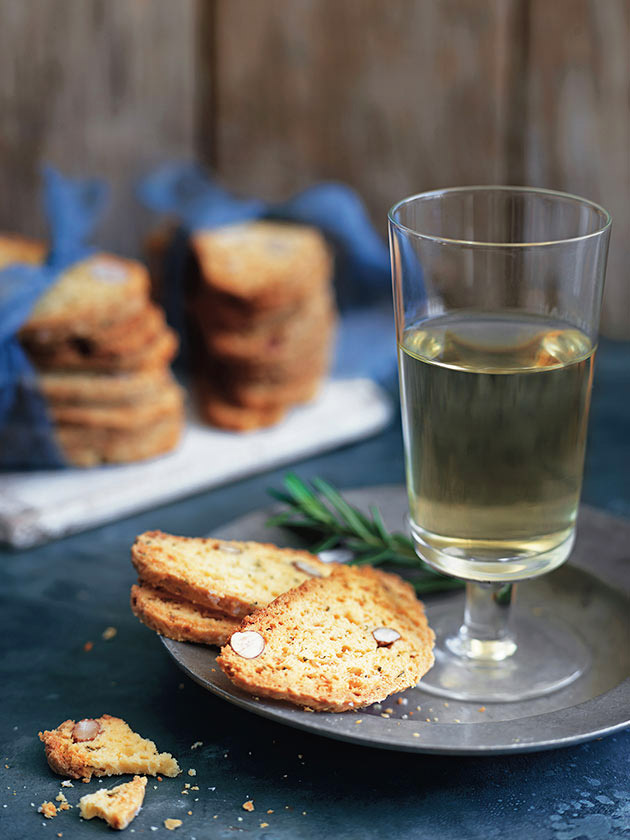 3 cups (450g) plain flour


2 teaspoons baking powder


½ cup (80g) almonds


½ teaspoon sea salt flakes, plus extra, for sprinkling


2 tablespoons finely chopped rosemary


1 cup (80g) finely grated pecorino


2 eggs


¾ cup (180ml) milk


⅓ cup (80ml) Cobram Estate Australian Ultra Premium Hojiblanca extra virgin olive oil, plus extra, for brushing

Preheat oven to 160°C (325°F). Place the flour, baking powder, almonds, salt, rosemary and pecorino in a large bowl and mix to combine. Make a well in the centre of the mixture, add the eggs, extra virgin olive oil and milk, and mix well to combine.
 Divide the dough into 2 even portions and roll out to 25cm loaves. Place on a baking tray lined with non-stick baking paper. Brush with extra oil and sprinkle with extra salt. Cook for 40 minutes, or until lightly golden. Set aside for 30 minutes to cool.

Using a serrated knife, cut the dough into 2mm-thick strips and place on 3 large oven trays lined with non stick baking paper. Cook for 20 minutes or until golden and crisp. Place on wire racks to cool completely before serving.
 Makes 60.

Note: You can store these biscuits in an airtight container for up to 2 weeks.
donna hay team
Hi Adrienne, it's beautiful isn't it? The glass is from Donna's personal vintage collection. The DH team x
Adrienne Kohlmann
Where is the glass from??