apple and cinnamon doughnuts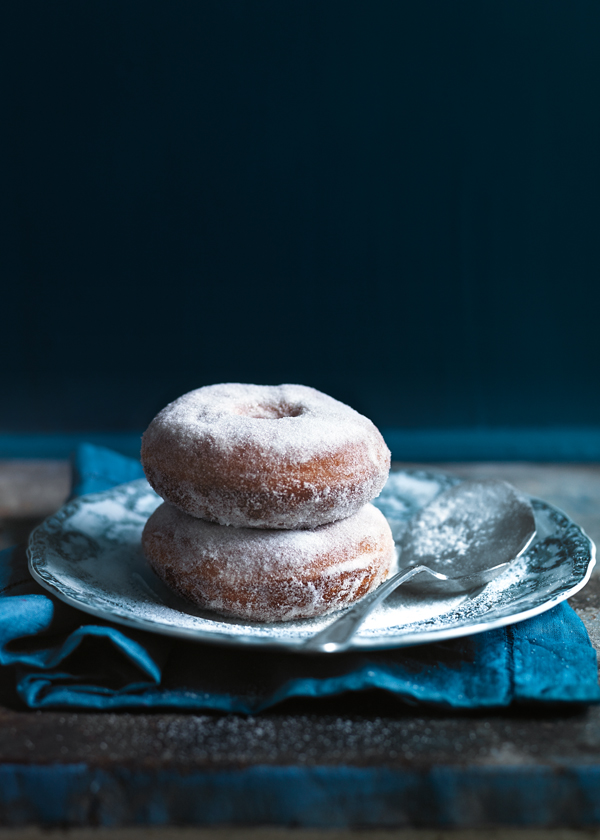 2 teaspoons active dry yeast
1½ tablespoons lukewarm water
½ cup lukewarm milk
3 tablespoons caster (superfine) sugar, plus extra, for dusting
50g unsalted butter, melted
2¼ cups (335g) plain (all-purpose) flour
2 eggs
1 teaspoon lemon juice
1 teaspoon ground cinnamon
6 slices whole Granny Smith (green) apple
vegetable oil, for deep-frying

Place the yeast, water, milk and 1 tablespoon of sugar in a large bowl and set aside in a warm place for 10 minutes or until bubbles appear on the surface. Add the butter, flour, eggs and another 1 tablespoon sugar to the yeast mixture and use a butter knife to mix until a sticky dough forms. Turn out onto a lightly floured surface and knead until smooth. Place the dough in a lightly oiled bowl, cover with a clean, damp cloth and set aside in a warm place for 45 minutes or until doubled in size.
Place the remaining sugar, lemon juice, cinnamon and apple in a bowl and toss to coat.
Knead the dough on a lightly floured surface for 5 minutes or until smooth and elastic. Divide into 2 equal portions and roll each out to 1cm-thick. Top 1 dough piece with the apple and sandwich with the remaining dough. Use a 9cm-round cutter to cut around the dough and apple to make 6 rounds. Use a 3cm-round cutter to cut holes from the centre of the rounds to make rings.
Place rings on a baking tray lined with non-stick baking paper and set aside for 30 minutes or until risen.
Place the oil and a sugar thermometer in a large, deep saucepan over medium heat until temperature reaches 180°C (350°F). Cook the doughnuts, in batches, for 1–2 minutes each side or until golden. Drain on absorbent paper. Dust with the extra sugar and serve immediately. Makes 6.

There are no comments for this entry yet.