tiramisu ice-cream cake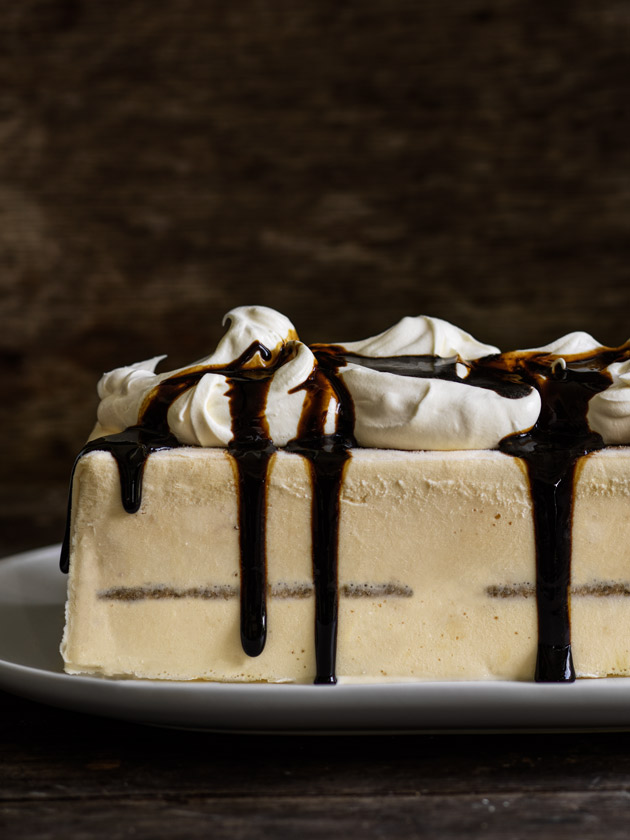 ½ cup (110g/4 oz) caster (superfine) sugar
320ml fresh espresso
18 savoiardi biscuits
3 litres (102 fl oz) vanilla ice-cream
¼ cup (60ml/2 fl oz) brandy
1 cup (250ml/8½ fl oz) thickened cream
½ cup (125ml/4¼ fl oz) mascarpone
1 teaspoon vanilla extract
Line a 10cm x 25cm (4 inch x 10 inch) (base measure) loaf tin with 2 sheets of non-stick baking paper, allowing paper to overhang the ends of the tin.
Stir the sugar into the coffee until the sugar dissolves. Pour half the mixture (reserve remaining sweetened coffee) into a non-stick frying pan over low heat. Very gently simmer for 10–12 minutes or until reduced to a thick syrup (for drizzling)+. Set aside to cool.
Place the ice-cream and brandy in the large bowl of an electric mixer and beat for 1–2 minutes or until softened and combined.
Dip the biscuits into the reserved sweetened coffee for about 3 seconds, then place 6 of the soaked biscuits into the prepared tin. Top with one-third of the ice-cream mixture. Continue layering with the soaked biscuits and ice-cream mixture, finishing with a layer of the ice-cream mixture. Cover and freeze for at least 6 hours or overnight.
Place the cream, mascarpone and vanilla in a bowl and using an electric mixer or whisk to whisk until soft peaks form.
When ready to serve, invert the frozen tiramisu onto a serving dish, cover the tin with a warm cloth, then hold overhanging paper to easily remove the cake from the tin. Remove paper. Dollop with the cream mixture, drizzle with the coffee syrup and serve immediately. Serves 8–10
+ Do not allow the coffee syrup to boil or it will become bitter.
Photography: William Meppem
donna hay team
Hi Bridget, you will need 320ml of Nespresso coffee for this recipe. We have used the il caffè espresso coffee pods for this recipe. Enjoy!
Bridget Rowse
Is the Nespresso supposed to make 1 Litre of coffee or 320ml ?
donna hay team
Hi Joanna, Yes, the quantities are correct as the tin we have used is quite tall. Be sure to watch Donna make the tiramisu ice-cream cake in the related video link below. Enjoy!
Joanna Corney
This seems like a lot of ice cream for the amount of biscuits and size pan. Is 3lt correct?
Thank you
donna hay team
Hi Megan and Marnie, to make this non-alcoholic, you could replace the brandy with maple syrup. Enjoy!
Marnie Petkovski
This looks and sounds delicious. Just wondering what you could replace with brandy for a non alcoholic version? Thank you in advance.
Megan Janse van rensburg
Are there any recommended substitutes for the brandy? My husband can't tolerate alcohol on his medication but would love to make this for Christmas. Thanks
RELATED VIDEO