chocolate salted caramel tart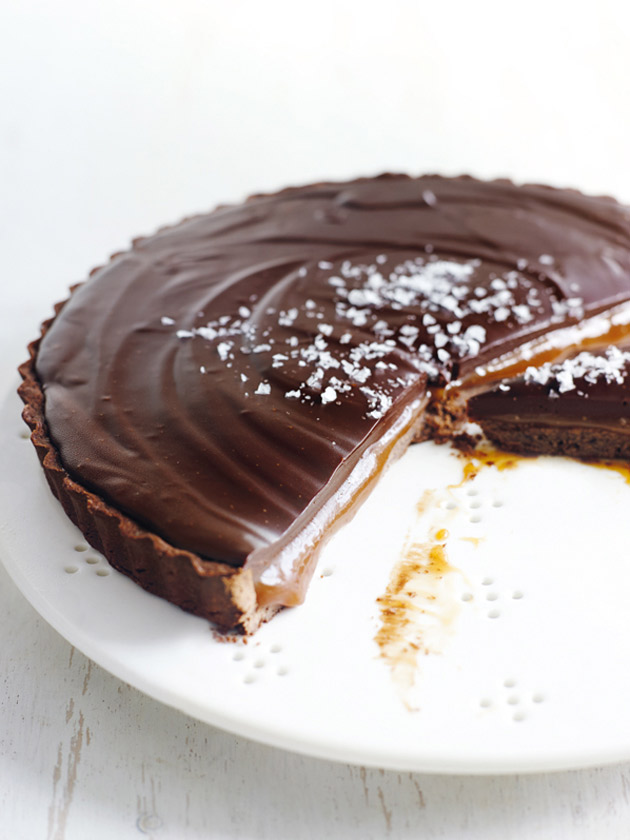 ¼ cup (25g) Dutch cocoa

1½ cups (225g) plain flour

125g unsalted butter, chilled and cubed

½ cup (80g) icing sugar

3 egg yolks

1 tablespoons iced water

sea salt flakes, for sprinkling
salted caramel
1 cup (250ml) single (pouring) cream

50g unsalted butter

1½ cups (330g) white sugar

½ cup (125ml) water

1 teaspoon sea salt flakes
dark chocolate ganache
150g dark chocolate, chopped

½ cup (125ml) single (pouring) cream

To make the salted caramel, Place the cream and butter in a small saucepan over medium heat and bring to the boil. Remove from the heat and set aside.

Place the sugar and water in a medium saucepan over low heat and cook, stirring, until the sugar is dissolved. Place a sugar thermometer in the pan increase the heat to high. Bring to the boil and cook for 10–12 minutes, without stirring, or until the temperature reaches 150°C and the mixture is a deep caramel colour. Remove from the heat and working quickly, add the salt and cream and butter mixture and whisk to combine. Return to the heat and cook for a further 2 minutes or until thickened slightly.
Place the cocoa, flour, butter and icing sugar in a food processor and process until the mixture resembles fine breadcrumbs. With the motor running, add the egg yolk. Add the iced water and process until the dough just comes together. Turn out onto a lightly floured surface and gently bring together to form a ball. Flatten into a disc, wrap in plastic wrap and refrigerate for 1 hour.

Preheat oven to 180°C. Roll the pastry out between 2 sheets of non-stick baking paper to 3mm-thick. Line a lightly greased 24cm round loose-bottomed tart tin with the pastry. Trim the edges and prick the base with a fork. Refrigerate for 30 minutes.

Line the pastry case with non-stick baking paper, fill with baking weights and bake for 15 minutes. Remove the paper and weights and bake for a further 10 minutes or until the pastry is just cooked. Allow to cool in the tin. Spoon the salted caramel into the tart shell and refrigerate for a 2–3 hours or until set.

To make the dark chocolate ganache, place the chocolate and cream in a small saucepan over low heat and cook, stirring, until melted and smooth. Allow to stand for 10 minutes or until thickened slightly. Pour the chocolate mixture over the caramel and refrigerate for 1–2 hours or until set. Bring to room temperature and sprinkle with sea salt flakes to serve. Serves 6–8

Nina Zavrsnik
A truly amazing cake, I made it for my husband's birthday and everyone loved it!
donna hay team
Hi Rebecca, You can make each component in advance however, only assemble the tarts when you are ready to serve. If they are assemble the day before you wish to serve the pastry will go soft. These are great to eat by themselves or with tea and coffee, no extras needed. Enjoy!
Rebecca Pitt
Hi DH team, can this recipe be made the day before and do you have any serving suggestions? Thanks!
donna hay team
Hi Angela, It is best to use single (pouring) cream to make the caramel. If you use double cream, you may find the caramel will not set. We hope this helps! DH Team
Angela Banks
Hi Donna, big fan from across the pond. I was about to make the tart but have only double cream, can I use this for the caramel. Thanks
Amelia Nanni
Listen everyone. I made an account just to leave this comment. I am here to tell you that THIS IS THE BEST RECIPE I HAVE EVER PLACED IN MY VERY MOUTH. This is the greatest thing you will ever eat. I like to think I am a salted caramel connoisseur, I have tried many salted caramels in my life. BUT THIS ONE IS THE BEST ONE I HAVE EVER TASTED. Maybe because my mum made it, but you know what, Donna, it was all you. Thank you for making this recipe. I am going to get fat now but that's ok, because this tart is so good I don't care. If you want to know, I made this originally to take to Christmas to share with my family, but then I had some and didn't bring it to share because it was so good I wanted to eat it all myself. The crust tastes strange on its own (its tempting but don't eat it once you have baked it) but then together with the caramel and chocolate it is like heaven. The chocolate is so yum as well, my gosh this is great. 10/10. I am a sucker for this recipe. OK. I hope my comment gets approved because it is very informative of how good his recipe is. Thank you everyone, make this recipe. Its so nice.
José Maes
Extremely good recipe. Great flavour. Made a lot of people happy
donna hay team
Hi Caryll, the white layer is just the light reflecting off the shine from the caramel. Enjoy! The DH Team.
Caryll Moffatt
Hi Donna, looking at the photo of this tart it appears to have a white layer as well as the salted caramel but I cannot find any reference to another layer in the recipe. Can you clarify please for me
Patricia Magliolo
Can gluten free flour be used in the pastry?
donna hay team
Hi Marlene, yes you can. Dutch cocoa simply has a deeper colour and richer flavour. The dh team
Marlene Martins
Hi there… So, I would like to know… may I switch the dutch cocoa for regular cocoa? Thank´s… and grettings from Portugal! Keep up the wonderfull job!
RELATED VIDEO