chocolate stout doughnuts
with chipotle stout praline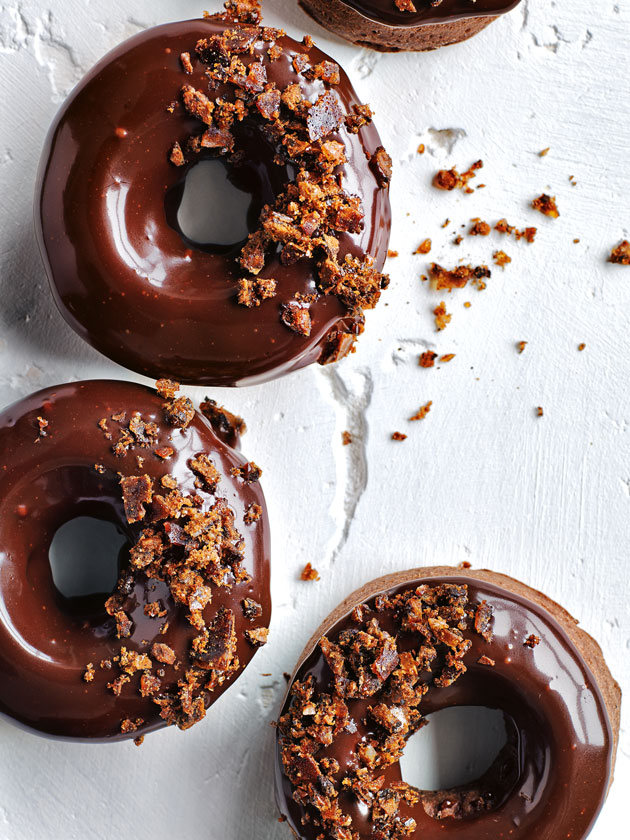 ½ cup (125ml) stout beer
1 teaspoons vanilla bean paste
2¼ cups (335g) plain (all-purpose) flour, plus extra for dusting
¼ cup (25g) Dutch cocoa
⅓ cup (75g) caster (superfine) sugar
2 teaspoons dried yeast

4 egg yolks

50g chopped unsalted butter, softened

¼ cup (60ml) double (thick) cream
chipotle stout praline
1 cup (220g) coffee sugar+
2 tablespoons stout beer

3 dried chipotle chillies++,
finely chopped
chocolate glaze
30g unsalted butter, chopped

¼ cup (90g) honey

120g dark chocolate, finely chopped

Heat the stout and vanilla in a small saucepan over medium heat until just warm. Place the flour, cocoa, sugar and yeast in the bowl of an electric mixer fitted with a dough hook and beat on medium speed until combined.
Add the warm stout mixture and egg yolks and beat until just combined. Add the butter and cream and beat for 6–8 minutes or until a smooth dough forms.
Place the dough in a lightly greased bowl, cover with a clean damp tea towel and set aside in a warm place for 1 hour or until doubled in size.
Roll out the dough on a lightly floured surface to 1½cm thick. Using an 8½cm round cookie cutter, cut 6 rounds from the dough.
Place the rounds on a large baking tray lined with non-stick baking paper, allowing room to spread. Using a 4cm round cutter, cut the inside of each round and remove. Set aside for 30 minutes or until risen.
Preheat oven to 180°C (350°F). To make the chipotle stout praline, place the coffee sugar, stout and chillies in a bowl and mix to just combine. Spread the sugar mixture on a large baking tray lined with non-stick baking paper. Cook for 20 minutes or until melted and dark golden. Set aside to cool.
Once cool, break into small crumbs. While the praline is cooking, cook the doughnuts for 8–10 minutes or until golden and puffed. Allow to cool completely.
To make the glaze, place the butter, honey and chocolate in a small saucepan over low heat and cook, stirring, for 2–3 minutes or until melted and smooth.
Dip the top halves of the doughnuts into the glaze and sprinkle half with the crumbled praline to serve. Makes 6
Tips:
+ Coffee sugar has a large sugar granule and makes the perfect crunchy sweet topping on desserts. Find it in the baking aisle of supermarkets.
++ Chipotle chillies are smoke-dried jalapeño peppers commonly used in Mexican cooking. Find them at spice shops and specialty grocery stores.
donna hay team
Hi Loreene, these doughnuts are baked in the oven and were featured in our 'Baked doughnuts' story in Issue 86 (April/May 2016). Many thanks, DH team.
Loreene Jalbert
In this recipe it doesn't state if you fry or bake doughnuts. I would assume fry in oil?