christmas cake ice-cream truffles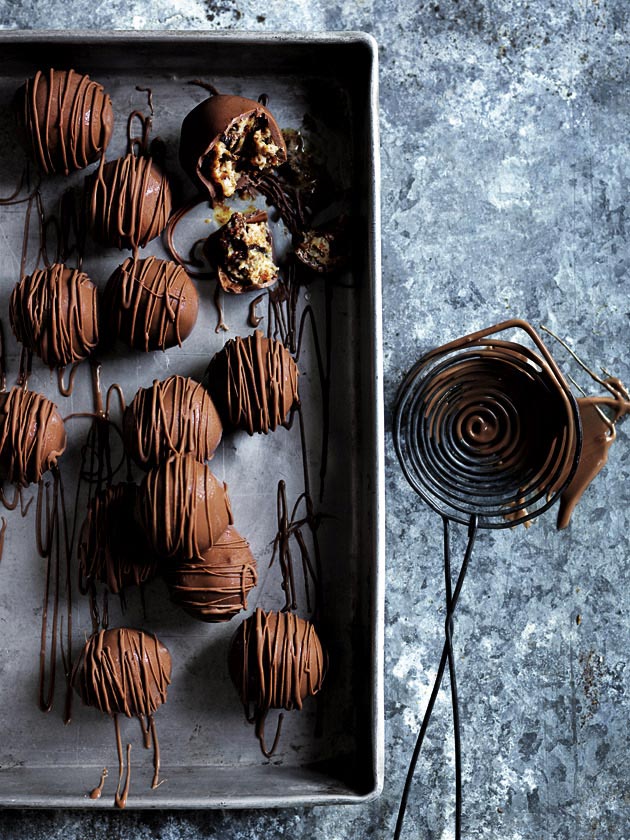 1 cup (250ml) vanilla ice-cream, chopped

200g store-bought Christmas fruit cake, crumbled

400g milk chocolate, finely chopped

1 tablespoon vegetable oil

Place the ice-cream in the bowl of an electric mixer and beat for 1 minute or until creamy and smooth. Add the cake and beat until just combined. Spoon into a loaf tin and freeze for 2 hours or until just frozen.

Scoop teaspoonfuls of the ice-cream into balls, place on 2 chilled trays+ and freeze for 1 hour or until firm. Place the chocolate and oil in a medium heatproof bowl over a saucepan of simmering water and, using a metal spoon, stir until melted and smooth. Allow to stand at room temperature for 10 minutes.

Working quickly, insert a toothpick into each truffle. Dip the truffles in the melted chocolate, allowing any excess to drip off and reserving the remaining chocolate. Stand the truffles up on a piece of thick cardboard or styrofoam. Freeze for 10 minutes or until set.

Remove the toothpicks and place on a lightly greased wire rack set over a baking tray lined with non-stick baking paper. Drizzle over the remaining chocolate, reheating if necessary, and freeze for 10 minutes or until set. Keep frozen until ready to serve. Makes 25.

+ Before making the truffles, place two large baking trays in the freezer to chill to prevent the ice-cream from melting.
There are no comments for this entry yet.