cloth-wrapped Christmas pudding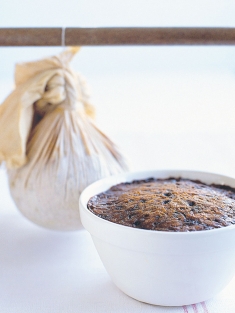 150g sultanas

150g currants

1⅔ cups (250g) raisins, halved

150g pitted dates or prunes, chopped

125g candied peel

½ cup brandy or sherry

250g butter

¼ cup (45g) brown sugar

¼ cup (55g) white sugar

3 eggs

85g slivered almonds

1 cup (150g) plain (all-purpose) flour

1 teaspoon ground cinnamon

1 teaspoon mixed spice

250g breadcrumbs

150ml milk

Place the sultanas, currants, raisins, dates, peel and brandy in a large bowl and allow to soak for at least 4 hours or overnight.

Beat the butter and brown and white sugar in an electric mixer until light and creamy. Add eggs and beat well. Place the butter mixture in a large bowl along with the sultana mixture, almonds, flour, cinnamon, mixed spice, breadcrumbs and milk. Mix until well combined.

Place pudding mixture in the middle of your prepared piece of calico* and gather up the ends. Tie tightly with string as close to the pudding as possible, making a loop at the end for hanging. Immerse pudding in a large saucepan of boiling water and boil for 4½ hours. Remove pudding from pan (wear rubber gloves to protect your hands) and hang over a sink or bucket on a broomstick so it hangs freely. Allow to dry and cool. Store in the fridge for up to 2 months.**

To reheat, immerse pudding in a saucepan of boiling water and boil for 45 minutes. Allow to drain for 5 minutes before unwrapping.
*** Serve with warm brandy custard. Serves 6–8.
* You will need an 80cm-square piece of calico. Rinse it under hot water to remove the starch. Wearing rubber gloves, dip it into boiling water, then wring out. Place ½ cup (125g) plain (all-purpose) flour in the centre of the cloth. Rub in a circular motion to spread in a thin layer about 50cm diameter.
** To prevent the cloth-wrapped pudding from going mouldy due to humidity, wrap it loosely in a tea towel and keep it in the vegetable crisper of the fridge.
*** You will will know the pudding is hot enough, if the cloth comes away easily.
There are no comments for this entry yet.