cocoa-dusted coffee cookies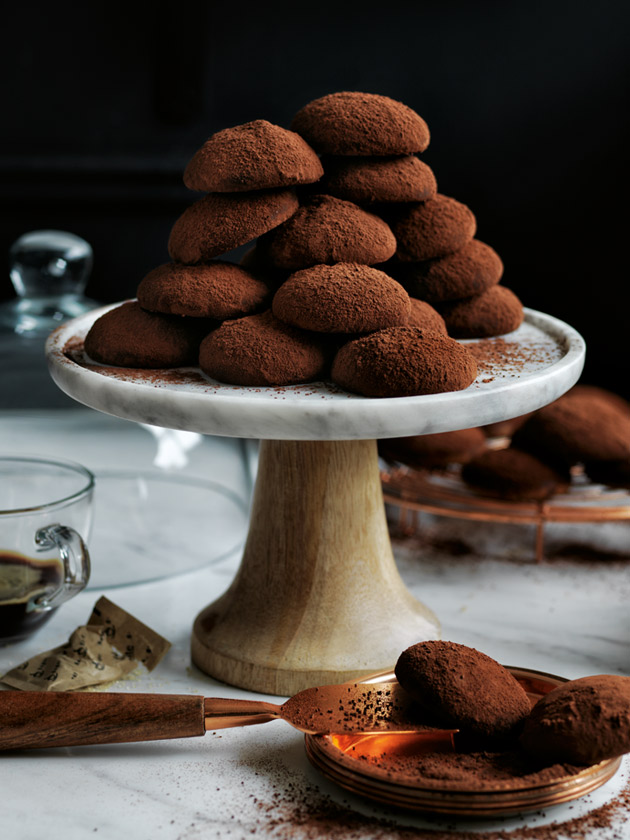 120g butter, chopped and softened

1½ cups (265g) brown sugar

⅓ cup (115g) golden syrup

1 egg

1 teaspoon vanilla extract

2¼ cups (335g) plain (all-purpose) flour

¼ teaspoon bicarbonate of (baking) soda

1 tablespoon finely ground coffee beans

½ cup (50g) Dutch cocoa, sifted

Preheat oven to 180°C (350°F). Place the butter, sugar and golden syrup in an electric mixer and beat for 3 minutes 
or until pale and fluffy.
Add the egg and vanilla and beat to combine. Add the flour, bicarbonate of soda and coffee beans and beat until just combined.
Roll 2 teaspoonfuls of the 
dough into balls and place on 3 large baking trays lined with non-stick baking paper.
Bake for 10–12 minutes or until golden brown. Place on a wire rack for 10 minutes to cool.
Place the cocoa and cookies in a medium bowl and toss to coat. Return to the wire rack to cool completely before serving. Makes 38.

donna hay team
Hi Hilary, the coffee in the capsule will be very finely ground in comparison to a crushed coffee bean. Plus, one capsule might be too much coffee. But you could give it a try or you can use chocolate covered coffee beans, crushed or instant coffee. Happy baking!
Alev Esmer
Recipe needs to indicate which kind of brown sugar.
It made more than 50 cookies using a 2tsp measure and took about 15 minutes to bake.
The main issue is the cocoa dusting. I followed the recipe for the first batch. They came out inedible with cocoa turning into a bitter paste.
For the other ones, I waited more than 20 Minutes and dusted the cocoa powder on the cookies. They were better. It really doesn't t need more than 1/4 cup cocoa powder.
Hilary Little
I guess you could use a coffee capsule, Nespresso for example? Maybe 2 capsules?