coconut ice-cream
and miso caramel swirl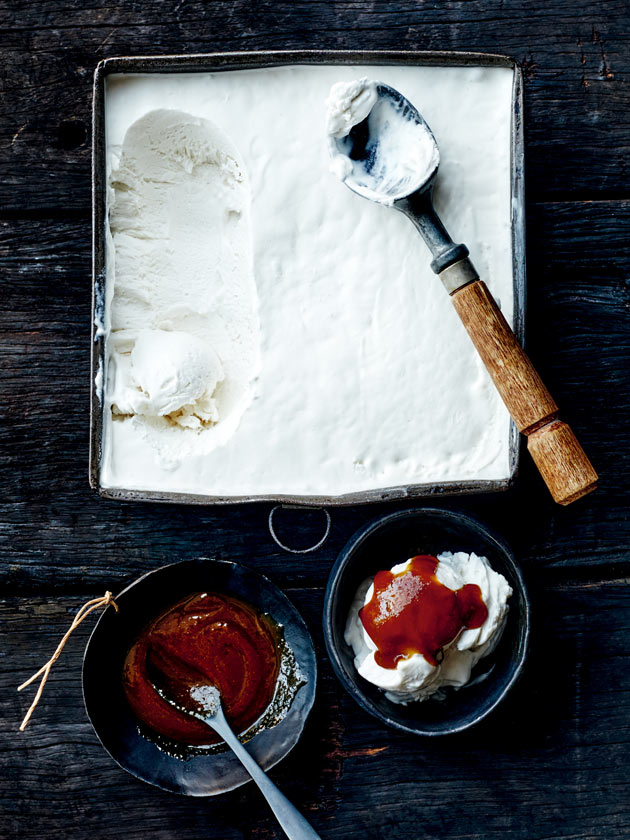 3 x 400g (14 oz) cans coconut cream

+

1 cup (250ml/8½ fl oz) light agave syrup

2 teaspoons vanilla extract

½ teaspoon xanthan gum
miso caramel
1½ tablespoons white miso paste (shiro)

½ cup (125ml/4¼ fl oz) pure maple syrup

1 teaspoon vanilla extract
Place a 20cm (8 inch) square metal tin in the freezer.

Place coconut cream, agave and vanilla in the bowl of an electric mixer and freeze for 30 minutes. Whip the coconut mixture, then with motor running, sieve over the xanthan gum and whip until thick and creamy. Pour into the chilled tin and freeze for 6 hours or overnight.

To make the miso caramel, place miso, maple and vanilla in a saucepan over low heat. Cook, stirring occasionally, until smooth and thickened slightly. Allow to cool.

Remove ice-cream from freezer about 10 minutes before serving.

To serve, divide coconut ice-cream between bowls and top with the miso caramel. Serves 8
+ We found that good-quality thick and creamy coconut cream works best for this recipe.
DONNA'S TIP
+ The umami of miso gives this updated salted caramel a new depth of flavour. It's a stunning partner for the rich creamy coconut ice-cream.
Photography: Con Poulos
donna hay team
Hi Nathalie, Yes, this recipe is from Donna's cookbook, Everyday Fresh - Meals in Minutes. Enjoy!
Nathalie Abreu
Is this recipe in one of your books?