dark chocolate souffle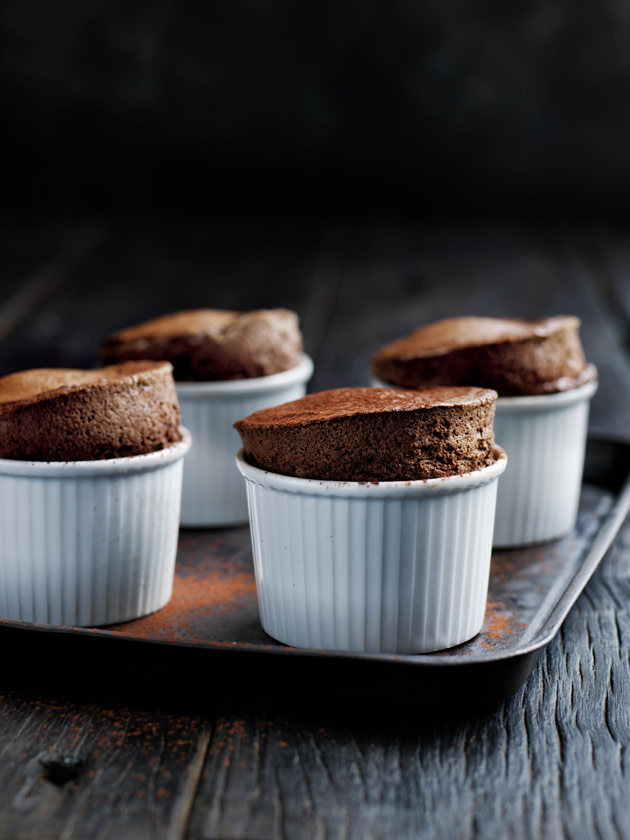 80g unsalted butter, chopped
165g dark (70% cocoa) chocolate, chopped
4 large eggs, at room temperature and separated
1½ teaspoons vanilla extract
¼ teaspoon cream of tartar
¼ cup (55g) caster (superfine) sugar
1 tablespoon cocoa powder, sifted
for the ramekins
20g unsalted butter, softened
1 tablespoon caster (superfine) sugar
To prepare the ramekins, brush 4 x 210ml capacity heatproof ramekins with butter and sprinkle with sugar to coat. Tip out any excess sugar. Place ramekins on a baking tray and refrigerate until ready.
To make the souffles, place the butter and chocolate into a small saucepan and stir over low heat until melted and smooth+. Set aside for 5 minutes or until cooled slightly. Add the egg yolks and vanilla to the chocolate mixture and whisk to combine. Set aside.
Place the eggwhites and cream of tartar in a bowl of an electric mixer and whisk on high until soft peaks form. Add the sugar, 1 tablespoon at a time, whisking until each addition is dissolved before adding more. Once all the sugar has been added, whisk for a further 2 minutes or until stiff glossy peaks form.
Fold ⅓ of the eggwhite mixture into the chocolate mixture, then sift in the cocoa. Fold through the remaining eggwhite mixture until combined.
Preheat the oven to 200°C (400°F).
Spoon the chocolate mixture into the ramekins, smooth the top and run your finger around the edge of each ramekin to make an indent. Refrigerate for 10 minutes++.
Reduce the oven temperature to 190°C (375°C) and bake the souffles on a baking tray for 12–14 minutes or until risen 2­­–3 cm above the top of the ramekin+++.
To serve, dust each souffle with extra cocoa and serve immediately with vanilla bean ice-cream, if desired. Serves 4
+ If you prefer, you can use the microwave for this step. Heat for 20 seconds at a time, stirring until completely melted and combined.
++ You can make this mixture in advance and refrigerate for up to 24 hours.
+++ To make sure your souffles rise, do not open your oven while they are cooking.
Photography: Chris Court
There are no comments for this entry yet.