ginger caramel ice-cream sandwiches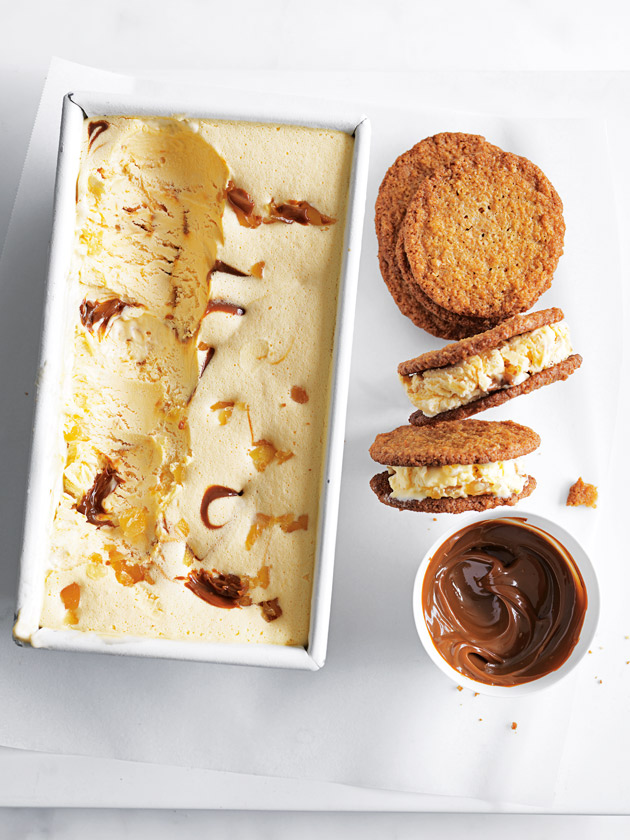 8 egg yolks

2 teaspoons vanilla extract

½ cup (110g) caster sugar

½ cup (125ml) water

1½ cups (375ml) pure cream, whipped to soft peaks

½ cup (80g) finely chopped crystallised ginger

¼ cup (75g) store-bought thick caramel or dulce de leche, plus extra to serve

32 store-bought brandy snap biscuits+

Place the egg yolks and vanilla in the bowl of an electric mixer and beat for 3–4 minutes or until thick. Place the sugar and water in a small saucepan over high heat and bring to the boil. Cook for 4–5 minutes or until slightly reduced and syrupy.

Pour the hot syrup, in a thin steady stream, into the egg yolk mixture and continue to beat for 6–8 minutes or until the mixture is cool. Gently fold the cream into the egg yolk mixture. Swirl through the ginger and caramel and pour into a 2-litre loaf tin. Freeze for 2 hours or until set.

Top half the biscuits with a scoop of semifreddo and sandwich with the remaining biscuits. Freeze until ready to serve. Serve with the extra caramel. Makes 16.

+ We used brandy snap biscuits from gourmet food stores, but you can mix and match with your favourite biscuits, such as chocolate chip cookies, anzac biscuits or vanilla shortbread.
There are no comments for this entry yet.