lemon and vanilla ricotta cheesecake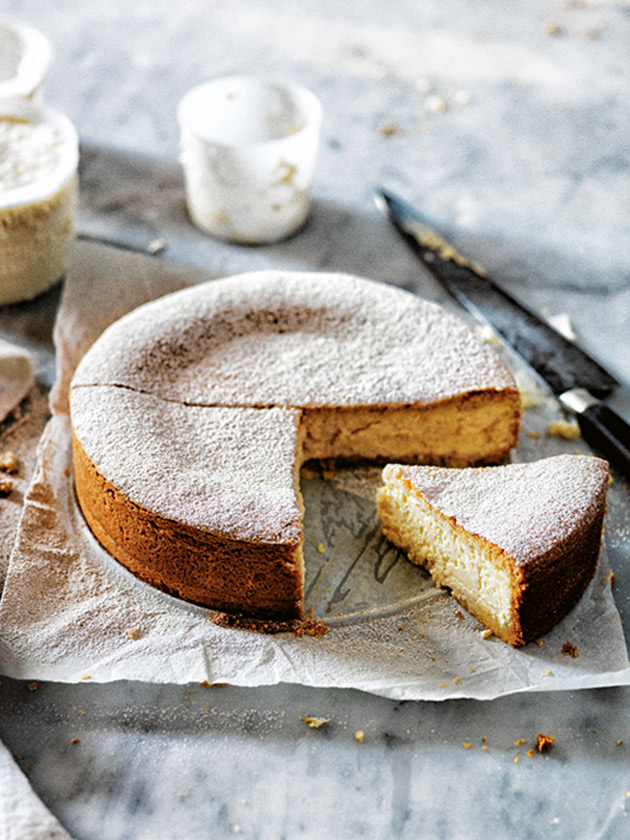 2½ cups (500g) fresh firm ricotta

250g cream cheese, softened

¾ cup (165g) caster (superfine) sugar

1 tablespoon finely grated lemon rind

1½ tablespoons cornflour (cornstarch)

¼ cup (60ml) lemon juice

3 eggs

¼ cup (60ml) single (pouring) cream

1 teaspoon vanilla extract
icing (confectioner's) sugar and ground cinnamon, for dusting

vanilla pastry
150g unsalted butter, softened

¾ cup (165g) caster (superfine) sugar

1 egg

1 egg yolk, extra

⅓ cup (80ml) single (pouring) cream

1 teaspoon vanilla extract

3 cups (450g) plain (all-purpose) flour, sifted

1½ tablespoons baking powder, sifted

To make the vanilla pastry, preheat oven to 160°C (325°F). Line the base of a 22cm springform cake tin with non-stick baking paper and set aside.

Place the butter and sugar in the bowl of an electric mixer and beat for 6–8 minutes, or until light and creamy. Add the egg and extra egg yolk and beat until well combined. Add the cream, vanilla, flour and baking powder and mix until just combined.

Turn out onto a lightly floured surface and roll to form a smooth ball. Divide the pastry in half. Roll one half of the pastry between two sheets of non-stick baking paper into a 45cm x 25cm rectangle. Set aside in the refrigerator.

Divide the second half of the pastry in half again, and roll each piece between two sheets of non-stick baking paper to make 2 x 22cm rounds. Place one of the rounds in the refrigerator, and the other in the base of the springform tin. Refrigerate the tin for 5 minutes.

Prick the base with a fork and bake for 8–10 minutes or until the pastry is dry to touch and golden around the edge. Allow to cool for 5 minutes
To make the ricotta filling, place the ricotta, cream cheese, sugar and lemon rind in the bowl of an electric mixer and beat on high for 2 minutes, or until smooth.

Place the cornflour and lemon juice in a small bowl, mix to combine and set aside. Add the eggs to the ricotta mixture and beat on medium until just combined. Add the cream, vanilla and lemon juice mixture and beat until just combined+.

Lightly grease the sides of the tin. Remove the rectangle of pastry from the refrigerator and cut in half lengthways.Line the side of the tin with the pastry strips, pressing the pastry gently into the base to join. Trim any excess pastry using a small knife.

Pour the ricotta mixture into the tin and fold the pastry edges over the filling. Press the remaining pastry round on top of the filling. Bake for 45 minutes.

Cover with aluminum foil and bake for a further 30 minutes, or until the pastry is golden. Allow to cool completely. Refrigerate until cold or overnight++. Serve dusted with icing sugar and cinnamon. Serves 8–10.
+ Don't overbeat the eggs in the cheesecake mixture as it will create too much air, causing your cheesecake to crack.
++ This cheesecake can be made one day ahead. Refrigerate until ready to serve.
There are no comments for this entry yet.