raspberry swirl pavlova wreath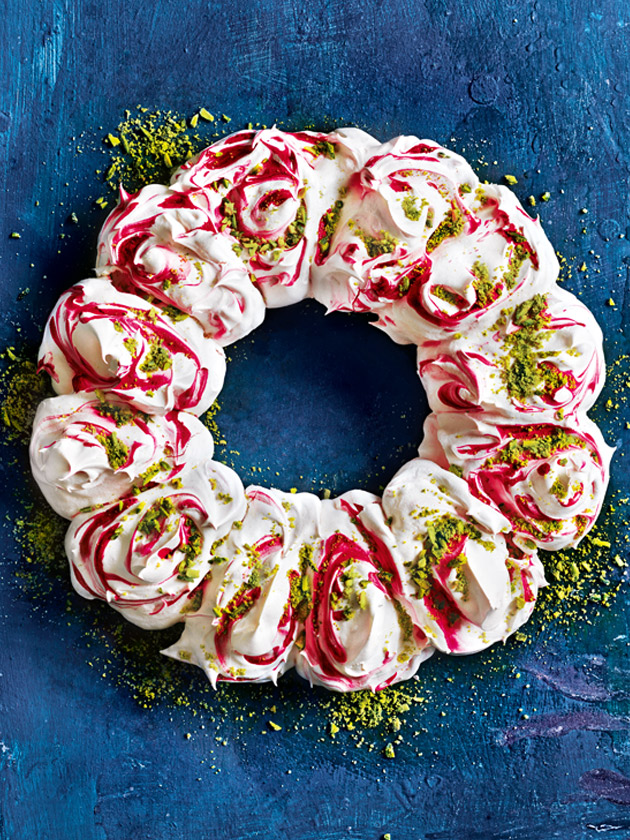 225ml eggwhites (about 6 eggwhites), at room temperature+

1½ cups (330g) caster (superfine) sugar

1½ teaspoons white vinegar

2 teaspoons cornflour (cornstarch)

1½ cups (375ml) single (pouring) cream, whipped

250g fresh raspberries

2 tablespoons pistachios, finely chopped

1 tablespoon freeze-dried raspberries, finely

crushed (optional)++

raspberry swirl
½ cup (75g) frozen raspberries

2 tablespoons caster (superfine) sugar

1 teaspoon vanilla extract

To make the raspberry swirl, place the frozen raspberries, sugar and vanilla in a small saucepan over medium heat and cook, stirring occasionally, for 3–4 minutes or until slightly reduced. Strain, discarding the seeds, and refrigerate to cool completely.

Preheat oven to 150°C (300°F). Place the eggwhite in the bowl of an electric mixer and whisk on high speed until stiff peaks form. Gradually add the sugar, 1 tablespoon at a time, waiting 30 seconds between each addition. Once all the sugar has been added, scrape down the sides of the bowl with a spatula and whisk for a further 6 minutes or until the mixture is stiff and glossy. Place the vinegar and cornflour in a small bowl and mix to combine. Add to the eggwhite mixture and whisk for 2 minutes or until glossy and combined.

Draw a 22cm circle on a sheet of non-stick baking paper and place, pencil-side down, on a large baking tray. Place 12 heaped spoonfuls of the meringue mixture around the inside of the circle to create a ring. Drizzle the raspberry mixture over each meringue and use a teaspoon to swirl. Place in the oven, reduce temperature to 120°C (250°F) and cook for 1 hour. Turn the oven off and allow the pavlova to cool completely in the oven.

To serve, top with cream, raspberries, pistachio and freeze-dried raspberries, if using. Serves 6–8.

+ Be sure to measure your eggwhites carefully, as instructed in the recipe, remembering egg sizes do vary. Also, use fresh, room temperature eggs, as this will help the eggwhites to become more voluminous when beaten.
++ Freeze-dried raspberries are available from selected delicatessens and specialty grocers.
donna hay team
Hi, Liza. Thanks for your question. You might have cooked the raspberry mixture a little too long on the stove before swirling it through your meringue. Hope that helps! – The DH Team.
Liza Tague
I loved this and thought it delicious but my raspberry swirl came out of the oven brown. It did not matter as it got covered by whipped cream but can you tell me what I did wrong?