salted caramel honeycomb crunch cake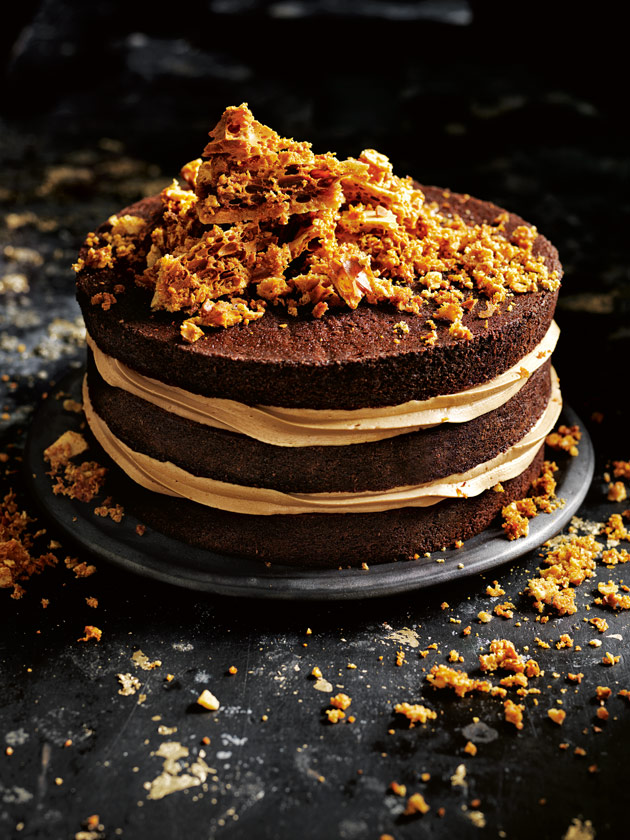 1⅓ cups (330ml) milk

1 cup (220g) caster (superfine) sugar

1 cup (175g) brown sugar

2 teaspoons vanilla extract

250g unsalted butter, chopped

200g dark chocolate, chopped

2 eggs

1¾ cup (260g) self-raising (self-rising) flour, sifted

⅓ cup (35g) Dutch cocoa powder, sifted

salted caramel buttercream
250g unsalted butter, chopped and softened

1 cup (160g) icing (confectioner's) sugar, sifted

¾ cup (225g) store-bought dulce de leche

1 teaspoon smoked sea salt flakes

honeycomb

2 cups (440g) caster (superfine) sugar

⅓ cup (80g) honey

⅓ cup (80ml) water

1 tablespoon bicarbonate of (baking) soda, sifted

Preheat oven to 160°C (325°F). Place the milk, sugars and vanilla in a large bowl and whisk to combine. Place the butter and chocolate in a medium saucepan over low heat and stir until melted and smooth. Add the eggs and chocolate mixture to the vanilla mixture and whisk to combine. Add the flour and cocoa and whisk to combine. Pour the mixture into a lightly greased 20cm x 10cm deep spring-form cake tin lined with non-stick baking paper. Cook for 1 hour 20 minutes–1 hour 30 minutes or until cooked when tested with a skewer. Allow to cool slightly 
in the tin before turning out onto a wire rack to cool completely.

While the cake is cooling, make the buttercream. Place the butter and sugar in the bowl of an electric mixer and beat for 8–10 minutes or until pale and fluffy. Add the dulce de leche and salt and beat until just combined. Set aside.

To make the honeycomb, line a large baking tray with non-stick baking paper and set aside. Place the sugar, honey and water in a medium saucepan over medium heat, stirring occasionally, until the sugar has dissolved. Bring to the boil and cook, without stirring, for 9–10 minutes or until the temperature reaches 152°C (306°F) on a sugar (candy) thermometer. Working quickly, whisk in the bicarbonate 
of soda. Pour onto the tray and set aside to cool completely.

To assemble, trim the top off the cake and cut into 3 even layers. Place the bottom layer on a stand. Place the buttercream in a piping bag fitted with a 1cm star-shaped piping nozzle. Pipe with half the buttercream, top with a second layer of cake and pipe with the remaining buttercream. Top with the final cake layer and top with crumbled honeycomb to serve. Serves 12. 

Note: Store excess honeycomb in an airtight container in the freezer 
for up to one month.

Gail Blackledge
Took a lot longer to cook than stated but tastes yummy!!! Like a brownie but in cake form
linda ebner
Hi Jemma Nestle top n fill is exactly the same thing
Jemma Coelho
Hi Guys I'm trying to find where I can buy the dulce de leche here in awesome Perth. If I can't get it what I use to substitute it?
Riana Williams
Most delicious cake ever and easy to bake!!! A must try!