salted peanut butter and choc-chip skillet cookies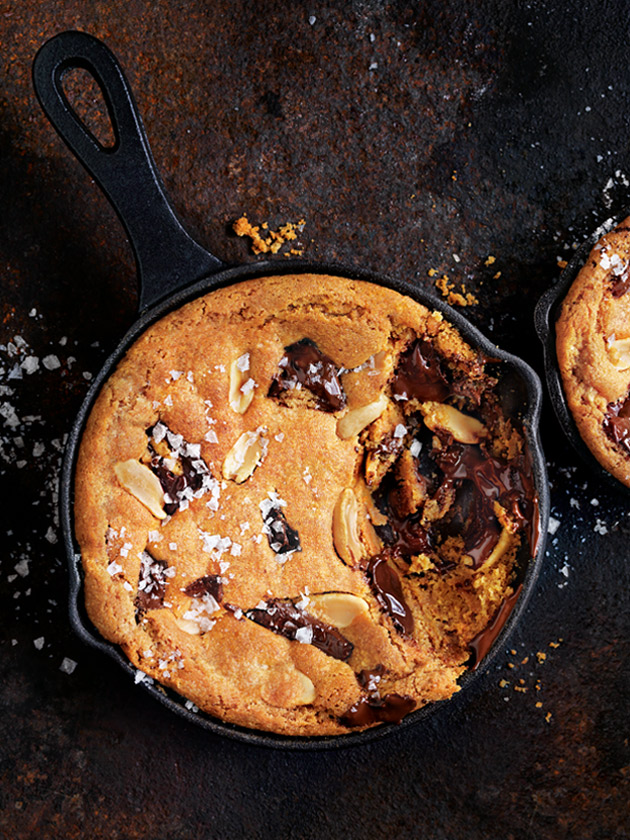 1½ cups (225g) plain (all-purpose) flour
1 teaspoon bicarbonate of (baking) soda
¾ cup (135g) brown sugar
½ cup (110g) white (granulated) sugar
1 egg
1 teaspoon vanilla extract
⅔ cup (190g) smooth peanut butter
175g unsalted butter, melted
200g dark chocolate, chopped
½ cup (70g) unsalted peanuts
sea salt flakes, for sprinkling
store-bought vanilla ice-cream, to serve
Preheat oven to 180°C (350°F). Place the flour, bicarbonate of soda, sugars, egg, vanilla, peanut butter, butter, chocolate and peanuts in a large bowl and mix to combine.
Divide the mixture between 8 x 10cm (1-cup-capacity) heavy-based ovenproof frying pans (skillets) and press to cover the bases evenly, coming halfway up the sides of the pans.
Place on a large baking tray

and cook for 15–18 minutes or until golden

brown and still slightly soft in the centre. Allow to cool slightly, sprinkle with salt and serve with ice-cream. Serves 8.
Tip: You can cook these cookies without the skillets, if you prefer. Divide the dough into 8 balls. Place two dough balls at a time on a lined baking tray and flatten to 10cm, allowing room to spread. Cook for 15 minutes at 180°C (350°F) or until golden brown and soft in the centre. Repeat with remaining dough balls.
There are no comments for this entry yet.
RELATED VIDEO