self-saucing caramel pudding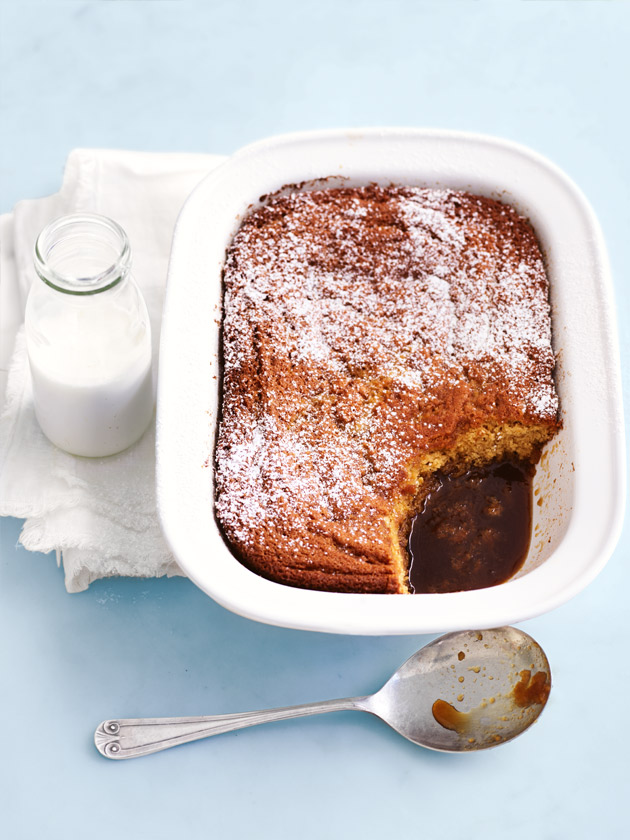 ¾ cup (135g) brown sugar

1½ cups (225g) self-raising (self-rising) flour

½ cup (125ml) milk

75g unsalted butter, chopped and melted

2 teaspoons vanilla extract

2 eggs

icing (confectioner's) sugar and single (pouring) cream, to serve

caramel
50g unsalted butter, chopped

1½ cups (265g) brown sugar

1½ cups (375ml) water

Preheat oven to 160°C (325°F). Lightly grease a 6-cup-capacity (1.5-litre) ovenproof baking dish. Place the sugar, flour, milk, butter, vanilla and eggs in a large bowl and mix to combine.

Spoon the mixture into the prepared dish. Set aside.

To make the caramel, place the butter, sugar and water in a small saucepan over high heat. Bring to the boil, stirring constantly to dissolve the sugar. Remove from the heat and set aside to cool slightly. Pour the caramel over the back of a spoon to drizzle over the pudding mixture.

Cook for 35 minutes or until the pudding is cooked through. Dust with the icing sugar and serve with the cream. Serves 6.
tips + tricks
+ It's important to gradually pour the caramel over the batter to ensure it sits on top of the batter. As the pudding cooks, the caramel will start to sink, creating the sauce.
+ You can make six individual puddings using 6 x 1-cup-capacity (250ml) ovenproof baking dishes. Place on an oven tray and cook for 20 minutes or until cooked through.
donna hay team
Hi Justin, This recipe is best made and cooked straight away, otherwise the batter will loose its light and fluffy texture. Happy baking! DH Team
Justin Cutajar
Just wondering if I could prepare this mix the night before, and add sauce and bake the next day? Thoughts?