fig, honey and almond tart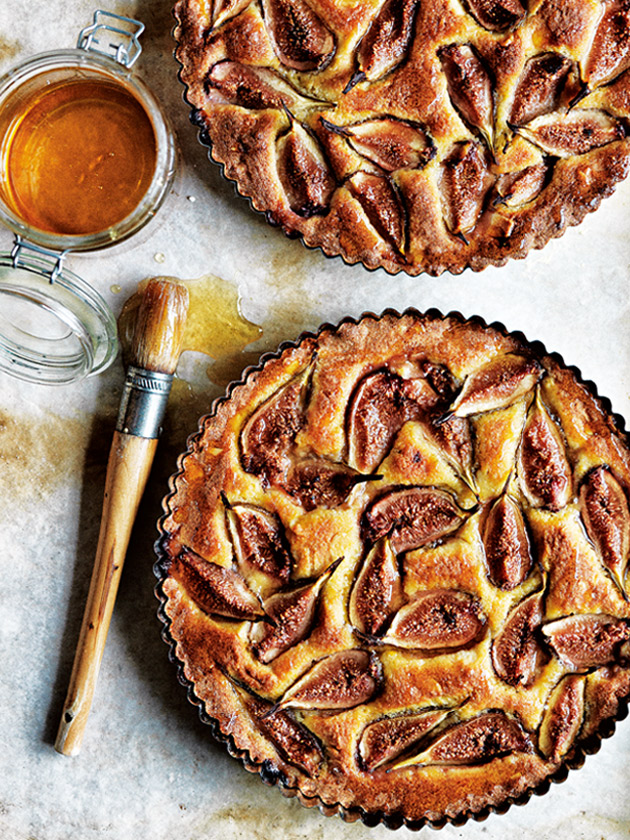 130g unsalted butter, softened
¾ cup (165g) caster sugar
1 tablespoon finely grated lemon rind
1 tablespoon finely grated orange rind
1 vanilla bean, split and seeds scraped
3 eggs
1½ cups (180g) almond meal
½ cup (75g) plain flour, sifted
½ teaspoon baking powder, sifted
1 cup (80g) flaked almonds
6 figs, quartered
¼ cup (90g) honey
Preheat oven to 160°C. Lightly grease a 28cm fluted loose-bottomed tart tin. Place the butter, sugar, lemon and orange rind and vanilla seeds in the bowl of an electric mixer and beat for 6–8 minutes, or until light and fluffy.
Add the eggs, one at a time, beating well after each addition. Add the almond meal, flour and baking powder and mix to combine. Fold in the flaked almonds. Spoon into the tart tin and spread until smooth.
Place the figs into the almond filling, pressing down slightly. Place the tart tin on a baking tray and cook for 45 minutes, or until golden. Remove from the oven and, while still hot, brush with the honey. Makes 1 tart.
donna hay team
Hi Julio, to make this gluten free, we recommend using a cup-for-cup gluten free plain flour like Bob's Red Mill gluten free 1 to 1 baking flour or even Donna Hay gluten free plain flour. Happy baking!
Julio Martirena
A bit late to the party on this one, but was looking for something other than jam to make with my fig's.
In the oven as I type, but my question is this as I am no cook…just an unemployed husband trying to help out.
How can I make this gluten free as my sister is gluten intolerant?
Andrea Meek
Thank you Donna for this great tart. I love that it looks fancy but is dead easy to make. Very popular in our family and when I am on dessert for dinner with friends.
Chad Bill
I tried it, and gotta say, it's incredible! All my family loved it. Thanks for such a great dessert. I think there'll be more family dinners at my home now.
karen newby
Thank you so much for providing alternative measurements: cups and metric. I'm going to try it now with the figs I picked yesterday.
Sandi Edgar
Picked 1kg of wild figs here in SW France so was looking for something different to bake. It came out just like the photo even when I had the challenge of baking in an oven with no thermostat! Also brushed with fig jam rather than honey and it was delicious! Family and friends now enjoying. Merci
donna hay team
Hi, Casaria. We have not tested this recipe with less butter. The milk will not act the same as the milk will, so the result might not be the same. If you want to swap out butter, try using half butter to half nut spread and follow the method as per the recipe. Hope that helps! The DH Team.
Casaria Cheung
Hi Donna. I want to try this. However I am a bit worry abt the butter. Can I substitute half of the butter to milk instead?
donna hay team
Hi Jill, unfortunately the tart will not work with dried figs, however you may use fruit that is in season like ripe pears or poached apples. Good luck! The DH team x
Jill Bernstein
Hi. I want to try this for Christmas but figs are not in season in the US. Can I substitute dried figs? If so, how do you suggest reconstituting them? Also, for the flour, is it all purpose or baking flour?
donna hay team
Hi Maggie! Yes of course - however strawberries leach more juices when baked so the tart may get a little soggy. Enjoy!
Maggie Bell
Hi
Can you replace the figs with strawberries? Thankyou!
Ashtud H
Thanks for the quick response! I ended up baking it at 355 Fahrenheit (180C, no fan) for 50mins and it turned out phenomenal! It is so fragrant, the whole house was filled with the aroma of a paris boulangerie…Will definitely be making this again soon…
donna hay team
Hi Ashtud, if your oven is not fan-forced you should increase the temperature by approx 20 degrees. Happy cooking!
Ashtud H
Any suggestions for temperature in a regular oven?
donna hay team
Hi Lisa, yes all our temperatures are based on fan-forced oven temps. Enjoy! The dh team
Lisa Karin Garipian
is the 160c suitable for a fan forced oven or should i lower the temperature? thanks
donna hay team
Hi Leanne, you can try swapping the almond meal for the flour - the texture might be a little different as the natural oils in the almond meal will change the recipe slightly. Good luck! The dh team
Leanne Roes
This tart is so easy to make and absolutes delicious. To make gluten free can you leave out the 1/2 cup of flour and increase the almond meal? Thank you.
donna hay team
Hi Bec, yes absolutely - enjoy! The DH team