twisted honey caramels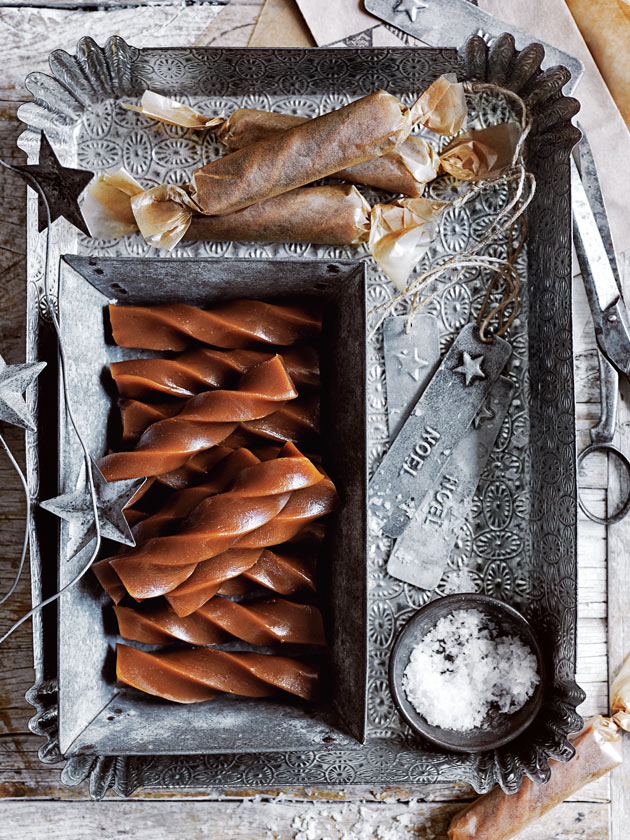 1 cup (250ml) double (thick) cream

65g unsalted butter, chopped

1⅓ cups (295g) white (granulated) sugar

⅔ cup (240g) honey

sea salt flakes (optional), to serve

Line a 20cm square cake tin with non-stick baking paper+. Place the cream and butter in a small saucepan over low heat and stir until the butter is melted. Set aside and keep warm.

Place the sugar and honey in a medium deep-sided saucepan over medium heat and cook, stirring occasionally, until the sugar has dissolved. Bring to the boil and cook, brushing any sugar crystals down the sides of the pan with a wet pastry brush, for 6–7 minutes or until the temperature reaches 154°C (309°F) on a sugar (candy) thermometer. Gradually add the warm cream mixture and mix well to combine++. Cook for a further 11–12 minutes or until the temperature reaches 127°C (260°F).

Working quickly, carefully pour the caramel into the tin and allow to stand at room temperature for 4 hours or until firm.

Slice the caramel into 1cm-wide lengths, halve each length and twist the caramels from each end. Wrap in squares of non-stick baking paper and twist the ends to seal. Refrigerate until needed. Sprinkle with sea salt to serve. Makes 40

+ It's best to work quickly but carefully when making caramel – line your tin and measure the ingredients before you begin.
++ When pouring the cream into the syrup, the hot mixture will boil and bubble – take care and use a deep saucepan.
Tip: These caramels will keep in the refrigerator for up to 1 week.
There are no comments for this entry yet.