vanilla custard slice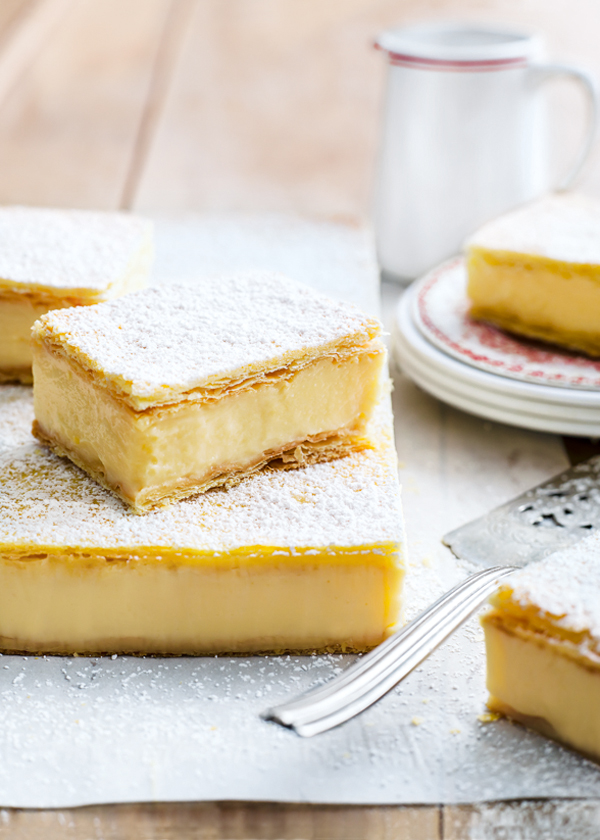 2 sheets store-bought puff pastry, thawed
1½ cups (375ml) milk
1½ cups (375ml) single (pouring) cream
60g unsalted butter, chopped
2 teaspoons vanilla extract
⅔ cup (150g) caster sugar
⅓ cup (50g) cornflour
½ cup (125ml) water
6 egg yolks
icing (confectioner's) sugar, for dusting
Preheat oven to 180ºC (350ºF). Place the pastry sheets on baking trays lined with non-stick baking paper. Top each pastry sheet with non-stick baking paper and place an additional baking tray on each pastry sheet as a weight. Bake for 20–25 minutes or until golden. Cool completely on wire racks. Using a serrated knife, trim the pastry sheets to 22cm-square. Set aside.
Place the milk, cream, butter, vanilla and sugar in a medium saucepan over medium heat and cook until just boiling. Remove from the heat. Combine the cornflour and water and whisk into the hot milk mixture with the egg yolks. Return to the heat, whisking, and bring to the boil. Cook, whisking, for 30 seconds–1 minute or until thickened. Place 1 pastry sheet in the base of a lightly greased 22cm-square cake tin lined with non-stick baking paper+. Top with the custard and the remaining pastry sheet and press down gently. Refrigerate for 3–4 hours or until set. Dust with icing sugar and slice to serve. Makes 12.

+ Ensure you have enough baking paper hanging over the sides of the tin so you can lift the slice from the tin after it has chilled.
Gemma Jensen
This was my first time making vanilla slice and it was delicious!! I doubled the recipe for a family gathering and had comments like it was the best vanilla slice ever tasted. Definitely be making again.
Georgina Dowden
I have no idea how I managed it, but I made this and somehow managed to forget to add the eggs! Amazingly, it still set and turned out beautifully. Custard without eggs - apparently it's possible!! Haha! Have since made it properly with the eggs and it's even better
Love this recipe. Thank you!
Joanne Atherton
Another fantastic recipe Donna and team. The custard is smooth, creamy and sweet enough. Easy to follow recipe. Thank you so much.
donna hay team
Hi Jemma, you may have over-cooked the custard. Try take the custard off the heat out of the saucepan, good heavy base saucepans will retain the heat. The DH Team.
Jemma Dingle
I have a question. I've made this twice now and everything works well, the custard tastes amazing, but after it's set, the custard ends up being grainy and I'm not sure why. When the custard is warm it's thick and creamy but letting it cool seems to change the consistency. Do you know why this might happen?
donna hay team
Hi Laurie, no I am afraid this recipe will not freeze well, the egg custard will not stay the same once it is defrosted. The dh team
Theresa Balice
Could not read the correct doses for caster sugar is it 2/3 cup? Also corn flour Is it 1/4 cup? Also is it corn flour or corn starch? Caster sugar what can I substitute?Thank You terri
Dale Sniffen
Ive made the slice recipe and found the custard wasn't thick enough so Ive increased it to 80gm of corn flour, that made all the difference.
Laurie Dalais
Wondering if this a slice can be frozen?
donna hay team
Hi Salika, unfortunately the recipe won't work if you use thickened cream as it has gelatine added to it and will change the texture. The dh team
Salika Khadka
Hi Donna Team, I'm really excited to make this but was just wondering if I can substitute thickened cream for pouring cream? It's just what I have at home and wondering if the recipe would work with thickened cream instead. Thank you
Hannah OLeary
Hi Donna Hay team, I made this yesterday. What a treat! I also added some vanilla paste. Next time will use less sugar as I made a simple icing which gave plenty of sweetness and I topped it with shredded coconut (I think this is a NZ thing?) I'm not sure if I didn't let it set for long enough but it was a sinker when I went to serve it up so next time should I use more cornflour? Thank you for yet another beautiful recipe xx
chris i
Ive made this 3 times now and it turns out great. I sub in 1 vanilla pod instead of the extract and its delicious and super easy.
donna hay team
Hi Katrina, great question! Cutting these types of slices can be tricky indeed and is a bit of trial and error but we use a hot dry serrated knife to cut through the pastry and custard. The DH team
Katrina Marques
I'd love to try this recipe for this weekend. How would you recommend cutting it so it doesn't squish?
PEG HOLLIS
great recipe, I have tried a few other recipes for vanilla slice but they never held properly and didn't have the right flavour. Highly recommend this slice and I just made a passionfruit icing instead of just dusting it.
Thankyou Donna