vanilla slice with vanilla bean praline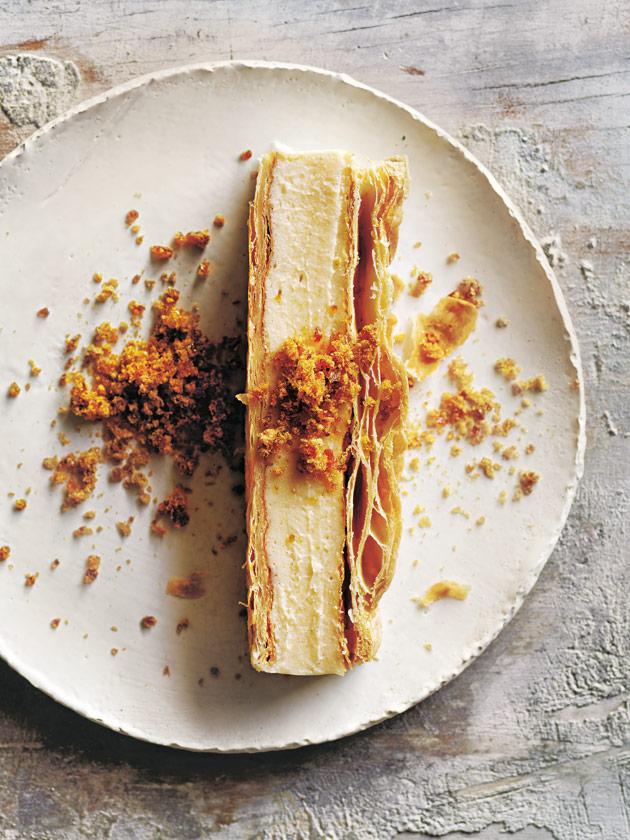 2¼ cups (560ml) milk

2¼ cups (560ml) single (pouring) cream

90g unsalted butter, chopped

1½ cups (330g) caster (superfine) sugar

2 vanilla beans, split and seeds scraped

2/3 cup (100g) cornflour (cornstarch)

¾ cup (180ml) water

9 egg yolks
rough puff pastry
3 cups (450g) plain (all-purpose) flour, plus extra for dusting
450g chilled unsalted butter, cut into 2cm pieces

1 cup (250ml) iced water


vanilla bean praline
½ cup (110g) caster (superfine) sugar

¼ cup (60ml) water

1 vanilla bean, split and seeds scraped

To make the rough puff pastry, place the flour and butter in a large bowl. Using your fingertips, quickly rub the butter into the flour until roughly combined (the butter should still be lumpy, about 1cm pieces.) Make a well in the centre of the bowl, add the iced water and use a butter knife to incorporate into a rough dough. Turn out onto a lightly floured surface and shape into a rough rectangle. Lightly flour the dough and roll out to a 50cm x 20cm rectangle (there should still be large lumps of butter in the pastry). Starting at the top short end, fold the pastry down to the middle, and fold the bottom up to overlap the top. Turn the pastry a quarter turn, and roll out again to a 50cm x 20cm rectangle. Repeat the folding process 5 more times. Wrap the pastry in plastic wrap and refrigerate for at least 1 hour.

Preheat oven to 200°C (400°F). Cut the pastry in half and place on a lightly floured surface. Roll out each half to a 30cm x 40cm rectangle. Place each on a baking tray lined with non-stick baking paper and cook for 30–35 minutes or until golden brown and puffed. Allow to cool completely.

Lightly grease a 20cm x 30cm x 4cm slice tin and line with non-stick baking paper, leaving excess paper overhanging. Using the base of the tin as a guide, cut each pastry sheet into a 20cm x 30cm rectangle. Place one sheet of pastry into the tin and press down slightly. Set aside.

Place the milk, cream, butter, sugar and vanilla bean and seeds in a medium saucepan over medium heat. Bring to just below the boil. Remove and discard the vanilla beans and remove the pan from the heat. Place the cornflour and water in a small bowl and whisk to combine. Add the cornflour mixture and egg yolks to the milk mixture, return to the heat and whisk for 30 seconds or until thickened. Pour the mixture into the tin, smooth into an even layer and top with the second sheet of pastry. Refrigerate for 4 hours or until completely cold and set.

To make the vanilla bean praline, place the sugar and water in a small saucepan over low heat. Cook for 4–5 minutes or until the sugar has dissolved. Increase heat to high and cook, without stirring, for 8–9 minutes or until dark golden brown. Remove from heat, add the vanilla seeds and swirl to combine. Carefully pour onto a small tray lined with non-stick baking paper. Allow to cool completely.

Once the praline has cooled, place in a mortar and pound with a pestle until fine. Cut the vanilla slice into lengths and sprinkle with the praline to serve. Serves 8–10.

There are no comments for this entry yet.