beef and horseradish schnitzel
with deconstructed colcannon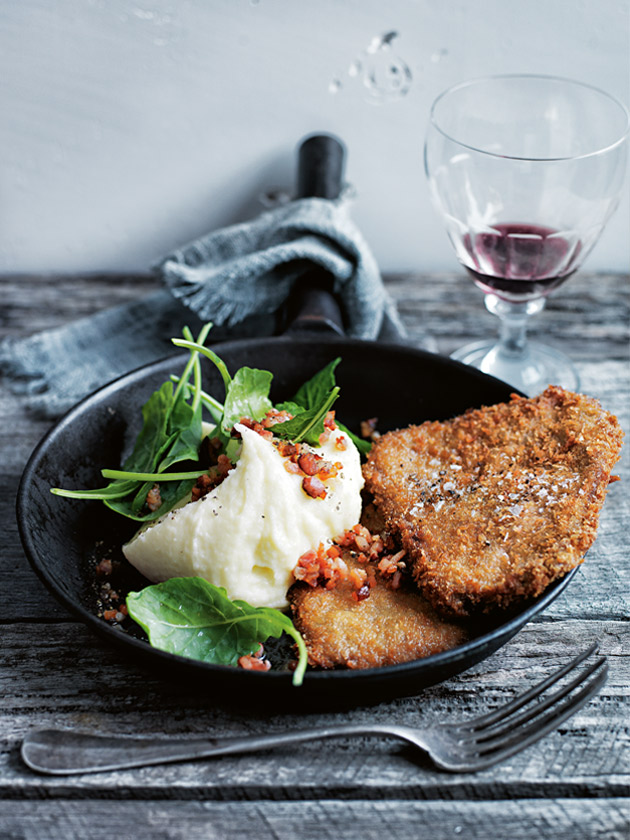 1 x 800g beef rump steak, trimmed

½ cup (75g) plain (all-purpose) flour

sea salt and cracked black pepper

2 eggs

¼ cup (60ml) milk

½ tablespoon freshly grated horseradish+

2 cups (150g) panko (Japanese) breadcrumbs

150g speck, finely chopped

200g baby cavolo nero (Tuscan kale) leaves

sea salt and cracked black pepper

colcannon mash
2 medium turnips (350g), peeled and chopped

2 medium parsnips (430g), peeled and finely chopped

600g sebago (starchy) potatoes, peeled and chopped

2 cloves garlic

¼ cup (60ml) single (pouring) cream

½ tablespoon freshly grated horseradish+

To make the colcannon mash, place the turnip, parsnip, potato and garlic in a large saucepan. Cover with cold salted water and place over high heat.

Cover and bring to the boil. Remove the lid and cook for 15–20 minutes or until the vegetables are very tender. Drain and return to the pan. Add the cream and horseradish and mash until smooth. Set aside and keep warm.
Cut the beef into 4 equal pieces and, using a meat mallet, pound to ½cm thick. Place the flour, salt and pepper in a medium bowl and mix to combine.
Place the eggs, milk and horseradish in a separate bowl and whisk to combine. Place the breadcrumbs in a third bowl. Dust the beef with the flour, dip into the egg mixture and press into the breadcrumbs to coat.
Heat 3cm of the oil in a large frying pan over high heat. Cook the beef in batches, turning, for 3–4 minutes or until golden and cooked through. Drain on paper towel.
While the beef is cooking, place a medium frying pan over high heat. Add the speck and cook for 4–5 minutes or until crisp. Divide the mash between serving plates, top with the speck and cavolo nero and serve with the schnitzel. Serves 4.
+ Find fresh horseradish in selected supermarkets and greengrocers. If unavailable, mix 1 tablespoon store-bought grated horseradish into the egg mixture for the schnitzel and 1 tablespoon into the colcannon.
There are no comments for this entry yet.