beetroot-cured ocean trout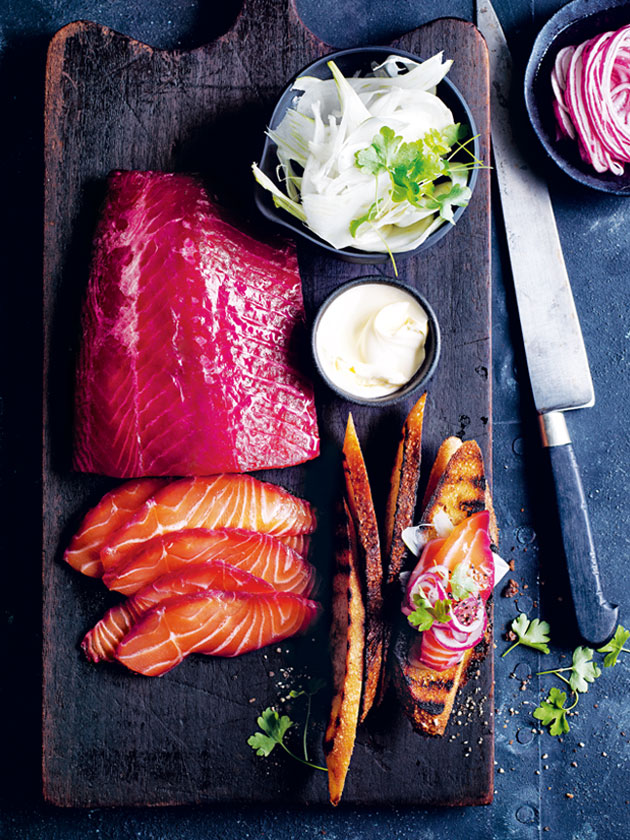 2 tablespoons black peppercorns, lightly crushed

3 large beetroot (600g), peeled and coarsely grated

½ cup chopped dill sprigs

1.2kg rock salt

1 cup (220g) caster sugar

1 x 400g piece sashimi-grade ocean trout, skin removed and pin-boned

¾ cup (180g) crème fraîche

2 teaspoons grated horseradish+

1 sourdough baguette, thinly sliced and toasted

2 bulbs baby fennel (260g), trimmed and thinly sliced using a mandolin

store-bought pickled red onions, to serve

micro (baby) flat-leaf parsley leaves (optional), to serve

sea salt and cracked black pepper, for sprinkling
Place the pepper, beetroot, dill, salt and sugar in a large bowl and mix to combine. Spread half the mixture into the base of a glass or ceramic baking dish. Top with the trout and the remaining beetroot mixture to coat. Cover with plastic wrap, top with a small tray and weigh down with 2–3 cans of tomatoes or beans. Refrigerate for 4 hours (but no longer).
Remove the trout from the beetroot mixture, brushing away any remaining salt with a pastry brush. Using a sharp knife, thinly slice the trout.

Place the crème fraîche and horseradish in a small bowl and mix to combine.

Top the baguette slices with a little of the crème fraîche mixture, fennel, trout, onion and parsley. Sprinkle with salt and pepper to serve. Serves 4 as a starter
+ You can buy ready-grated horseradish in jars at supermarkets and greengrocers.
TIP
The cured trout will keep tightly covered in plastic wrap in the refrigerator for up to 3 days.
Photography: Chris Court
donna hay team
Hello Lisa, yes this recipe will work with salmon. The key is to make sure the salmon is fresh! DH Team
Lisa Lees
Hi DH team. Would this recipe work just as well with salmon instead of the trout?