char-grilled asparagus
and parsley pesto pasta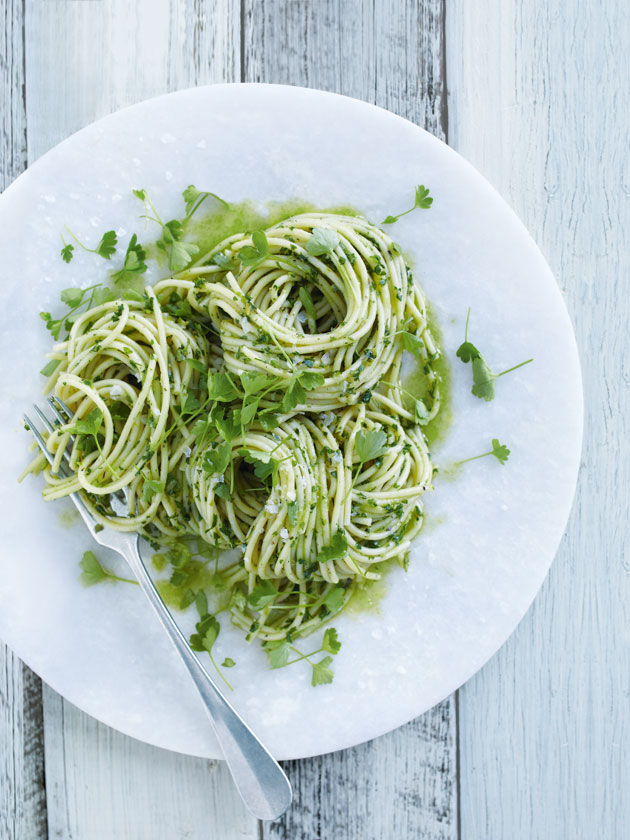 300g green asparagus, trimmed
¼ cup (60ml) olive oil, plus extra, for brushing
sea salt and cracked pepper
2 cups flat-leaf parsley leaves
2 cloves garlic, crushed
10 white anchovy fillets
½ cup (40g) finely grated parmesan, plus extra, to serve
1 tablespoon finely grated lemon rind
2 tablespoons lemon juice
400g spaghetti
micro parsley leaves, to serve (optional)

Preheat a char-grill pan over high heat. Brush the asparagus with oil and sprinkle with salt and pepper. Cook for 8–10 minutes or until just charred. Allow to cool slightly and roughly chop.

Place in a food processor with the oil, parsley, garlic, anchovy fillets, parmesan, lemon rind, lemon juice, salt and pepper and process until roughly chopped. Set aside.

Cook the pasta in a large saucepan of salted boiling water for 10–12 minutes or until al dente. Drain, reserving 1 cup (250ml) of the cooking liquid. Return the pasta to the saucepan with the pesto and reserved liquid and toss to combine. Divide between plates and top with micro parsley leaves and extra parmesan to serve. Serves 4.

There are no comments for this entry yet.