chilli and ginger pork noodles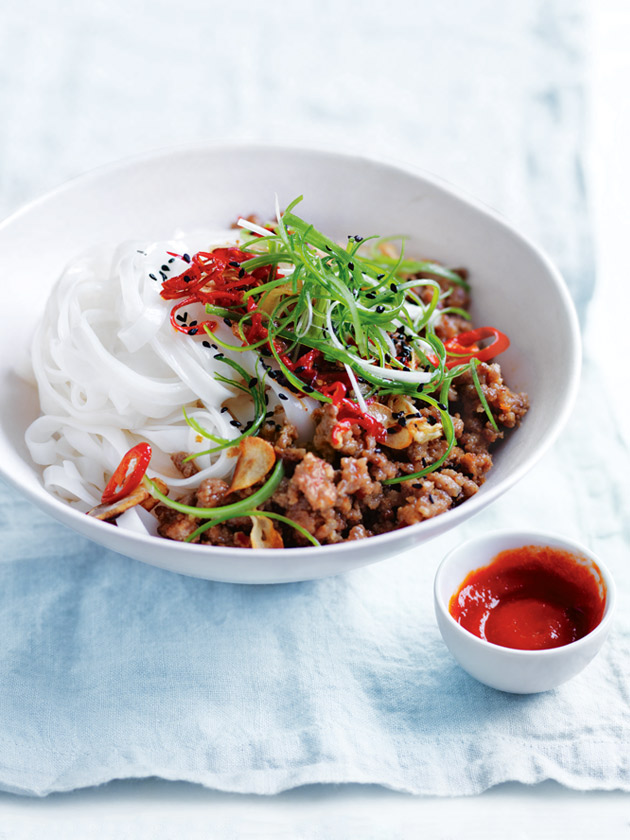 1 tablespoon vegetable oil

5cm piece ginger, peeled and shredded

3 cloves garlic, sliced

1 long red chilli, thinly sliced, plus extra to serve

500g pork mince

¼ cup (80g) Asian chilli jam

1½ cups (325ml) chicken stock

200g flat rice noodles, cooked

2 green onions (scallions), thinly sliced

1 teaspoon black sesame seeds

sriracha hot chilli sauce+, to serve

Heat the oil in a wok or large frying pan over high heat.

Add the ginger, garlic and chilli and cook for 2–3 minutes or until golden brown. Remove from the wok and set aside.

Add the pork to the wok and cook, breaking up any lumps with a wooden spoon, for 4–5 minutes or until golden brown.

Add the chilli jam and cook for 1 minute. Add the stock and cook for 6–7 minutes or until the liquid is reduced.

Divide the noodles between bowls and top with the pork, ginger mixture, onion, extra chilli and sesame seeds.

Serve with sriracha. Serves 4.
+ Sriracha hot chilli sauce is available from the Asian food aisle of most supermarkets and from Asian grocers.
Alex Grayshon
Delicious flavours and really simple/fast to make .
Carman Ward
Absolute winner….. Delicious.. Added some fresh coriander and sweet chill sauce when serving…. Quick, easy - will be making again soon.