classic chicken laksa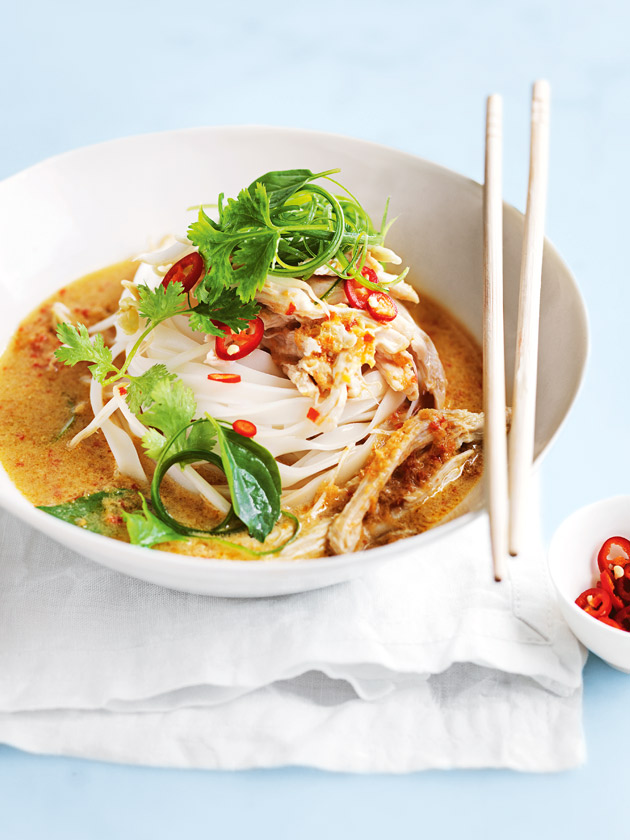 2 tablespoons vegetable oil

400ml coconut milk

1 litre chicken stock

2 cups (500ml) water

1 tablespoon fish sauce

2 thai lime leaves

4 x 180g chicken breasts, trimmed

200g cooked flat rice noodles

coriander (cilantro) leaves, Thai basil leaves, green onion (scallion) and sliced long red chilli, to serve

laksa paste
3 cloves garlic

3cm-piece ginger, peeled

2 eschalots (French shallots), peeled

3 long red chillies

1 stalk lemongrass, white part only

4 coriander (cilantro) roots

3cm-piece fresh turmeric

1 tablespoon fish sauce

¼ cup (65g) grated palm sugar

1 teaspoon ground coriander

1 teaspoon ground cumin

To make the laksa paste, chop the garlic, ginger, eschalots, chillies, lemongrass and coriander roots. Finely grate the turmeric.

Place in a small food processor. Add the fish sauce, palm sugar, ground coriander and cumin and process until the mixture forms a paste.

Heat the oil in a wok over medium heat. Add the laksa paste and cook, stirring, for 6–8 minutes or until fragrant.

Add the coconut milk, stock and water and bring to the boil. Add the fish sauce, lime leaves and chicken and cook for 8 minutes or until the chicken is cooked through.

Carefully remove the chicken and shred using 2 forks. Divide the noodles between bowls and top with the laksa and shredded chicken. Top with the coriander, basil, onion and chilli to serve. Serves 4–6.

donna hay team
Hi Meryl, glad to hear your love laksa! You can make the laksa paste and keep it in an airtight container, with a layer of oil on top in the fridge for up to 1 month. Enjoy!
Meryl Dorey
I have only recently discovered the joys of Laksa and am mad about it. My question is about the paste. How long will it last in the refrigerator and can it be frozen? I think this is something I would like to have on hand to speed things along if at all possible. Thanks for the great recipe