chicken and broccolini curry
with cucumber and coconut salad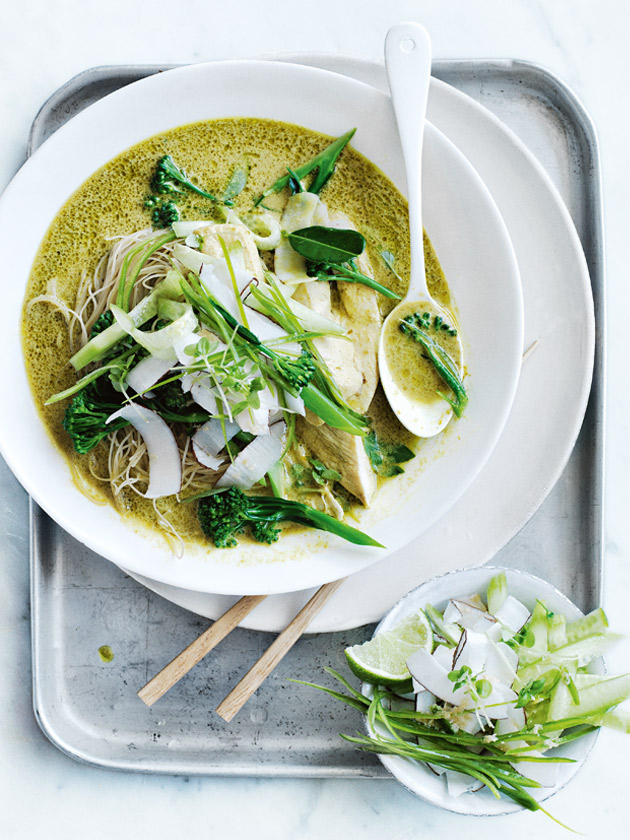 200g thin brown rice noodles or vermicelli

2 tablespoons peanut oil

½ cup (150g) mild green curry paste

2 tablespoons fish sauce

1 tablespoon coconut sugar+

400ml coconut milk

2 cups (500ml) chicken stock

6 kaffir lime leaves

2 stalks lemongrass, crushed

2 x 200g chicken breast fillets, sliced

6 x 200g chicken thigh fillets, sliced

500g broccolini

2 tablespoons lime juice

lime wedges, Thai basil and baby (micro) basil leaves (optional), to serve

cucumber and coconut salad
1 tablespoon rice wine vinegar

2 tablespoons lime juice

1 teaspoon finely grated ginger

1 teaspoon coconut sugar+

2 Lebanese cucumbers, peeled and sliced

2 long green chillies, seeded and thinly sliced

2 cups (150g) shaved fresh coconut (see cook's tip)

To make the cucumber and coconut salad, place the vinegar, lime juice, ginger and sugar in a bowl. Mix until the sugar has dissolved. Add the cucumber, chilli and coconut and toss to combine. Place the noodles in a large bowl and cover with boiling water. Allow to stand for 5 minutes or until softened. Drain and refresh under cold running water.
Heat the oil in a large deep-sided frying pan over high heat. Add the curry paste and cook, stirring, for 1 minute or until aromatic. Add the fish sauce, sugar, coconut milk, stock, lime leaves and lemongrass and bring to the boil. Add the chicken, reduce the heat to low and cook for 10–15 minutes or until the chicken is cooked through. Add the broccolini and cook for a further 1–2 minutes or until tender. Stir through the lime juice.
Divide the noodles between bowls and top with the curry, coconut salad, lime and basil, if using. Serves 4.

+ Coconut sugar is similar to coconut nectar, but in granule form. Its caramel flavour gives a lovely note to baked goods. Find it in specialty food stores, Asian grocers and health food stores.
Cook's tip: For our freshly shaved coconut, we used a regular coconut with a brown husk. To open, find the soft, indented 'third eye' with your fingers and pierce a hole using a skewer. Drain the water and keep refrigerated. Preheat oven to 180°C (350°F). Place the whole, drained coconut on a baking tray and cook for 15–20 minutes. Holding the warm coconut with a tea towel, use a heavy, blunt tool (such as a sharpening steel or hammer), to break the husk around the middle. To remove the flesh from the husk, gently prise it from the shell using a strong butter knife. Use a vegetable peeler to shave the flesh into long flat pieces.
There are no comments for this entry yet.